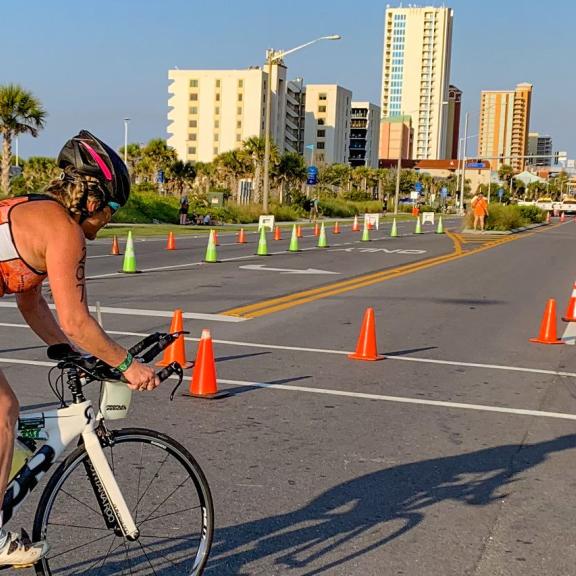 Are You Ready to "Tri" a Triathlon?
Up your race ante at the Brett/Robinson Alabama Coastal Triathlon.
June 10, 2021
Ready, set, GO! It's triathlon time, and we have the best atmosphere for this competition on the Gulf Coast. The Brett/Robinson Alabama Coastal Triathlon, an annual event on the Saturday after Labor Day. Enjoy swimming in the Gulf of Mexico and running and biking on a flat course. Soak up the scenic view of the Alabama beaches to rev up your energy for a fast-paced race. 
This race day is more than just a quick run on the beach, though. It's a fun-filled weekend with activities for the entire family. Enjoy pre- and post-race activities at The Hangout, the main hub for the triathlon. This is truly a weekend to enjoy with family and friends. So, pack up your team, your friends and your family and bring them to the Alabama Gulf Coast for a crazy, fun time! 
What To Expect at The Brett/Robinson Alabama Coastal Triathlon
Pre-and Post-Race: Festivities will take place at The Hangout. Enjoy a family-friendly environment with live music, fun activities and much more all weekend long at this beachside hangout known for throwing the best (family-friendly) beach parties. 
Race Day: Line up for the perfect setting and dip your toes in the sand before the race. Whether you're a triathlon novice or an experienced racer, we have something for you. 

The Coastal "Tri-It-On" Triathlon is great for beginners, allowing participants to experience a triathlon without having to commit to a long distance. It consists of a 300-yard swim, a 9-mile bike ride and a 2-mile run.
The full triathlon consists of a 1.5K swim, a 40K bike ride through Gulf State Park and a 10K scenic run. 

After the Race: Kick your shoes off and enjoy sinking your toes into the sand. After all, medal or no medal, you earned it! 
To learn more about the Brett/Robinson Alabama Coastal Triathlon, peruse our full list of event details, book your rooms and register!