Mix Seafood and Golf for a "Shrimply" Good Weekend During National Shrimp Fest
September 8, 2014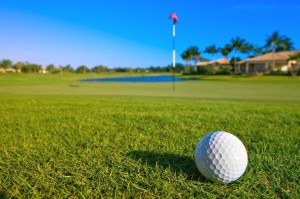 The summer season for tourists may be over, but the next big event is on its way very soon. Every October, the Gulf Shores Public Beach is turned into a festival featuring lots of fun, live entertainment, and of course, shrimp! For those of you who
love to eat, you're in luck! Fresh seafood and other goodies can be found all around at the Annual National Shrimp Festival, Oct. 9-12. There are also plenty of craft vendors for those of you looking for something unique to take home with you. This family-friendly event is perfect for all ages.
A golf vacation during Shrimp Fest weekend is perfect timing. If you prefer an early tee time, you could play golf all morning, then have the rest of the day off to swing by and enjoy all that the festival has to offer. For those of you who like to get a late start, you could head out to the Shrimp Festival earlier in the day and hit the course that afternoon.
Right now, it's a great time to get your plans made. Gulf Shores Golf Association makes it easy to book your play and your stay at the same time. We know that no two golf getaways look the same. You may be coming with your family, with your buddies or your significant other. No matter what your needs, your covered.