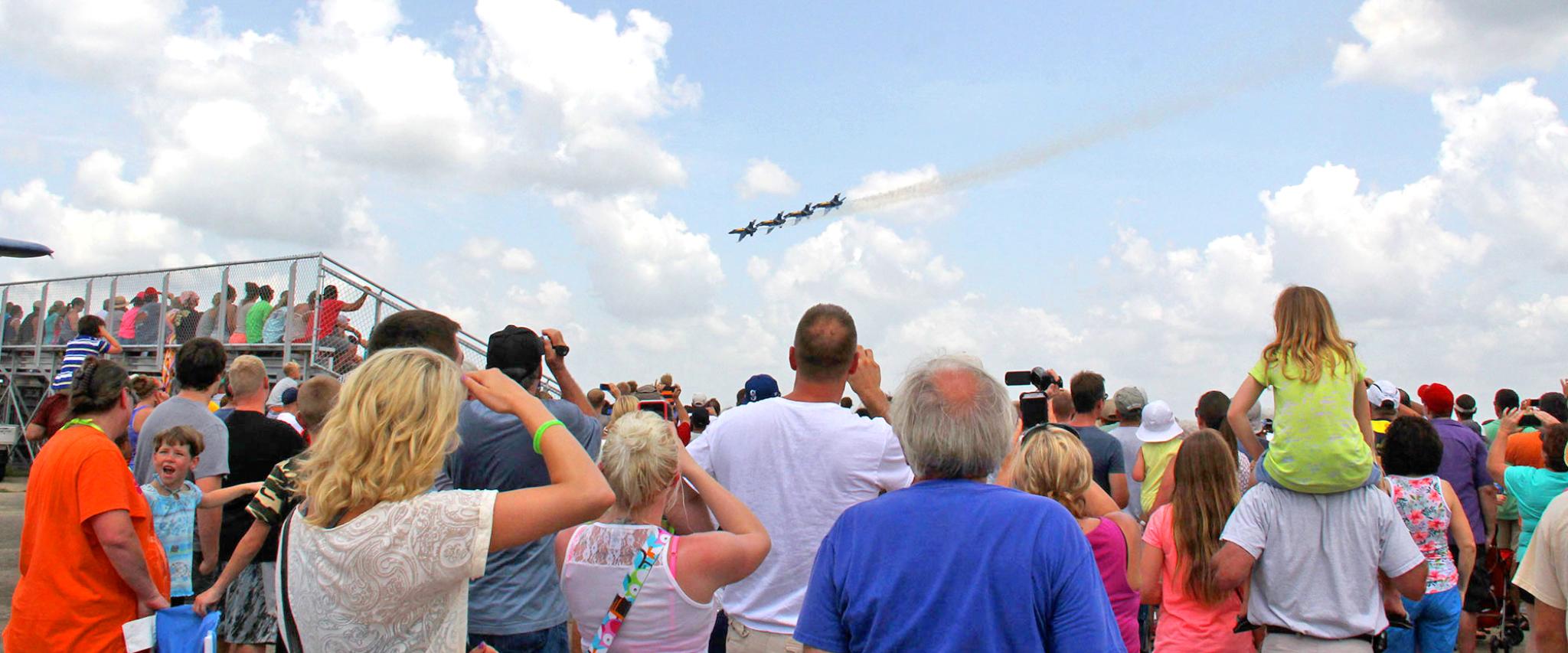 What You Need to Know for the Blue Angels Homecoming Show
Turn your eyes to the skies as the Blue Angels, the Navy's precision flight team, amaze and delight audiences with their flying skills.
October 1, 2018
For three days, Nov. 7, 8 and 9, the Blue Angels Flight Demonstration Team will celebrate its roots and the 100th anniversary of NAS Pensacola during its Homecoming Show at the Pensacola Naval Air Station. More than 100,000 people are expected to visit the show each day.
Here's what you need to know before you go:
• On Friday, Nov. 7, gates open at 3 p.m. and the show begins around 4 p.m. Activities scheduled include the U.S. Air Force Academy's Wings of Blue Skydiving Team with the National Anthem; Bob Carlton with Vertigo Air Shows, Otto the Helicopter, fireworks and the Wall of Fire.
• On Saturday and Sunday, Nov. 8 and 9, gates open at 8 a.m. and the show begins at 9 a.m. Activities include: Otto the Helicopter; The Budweiser Clydesdales (Saturday only) Team AeroDynamix, Screaming Sasquatch, the Fat Albert Demonstration at 2 p.m. and the Blue Angels.
• Blue Angel pilots will sign autographs after the show.
• Admission is free!
• There will be static displays of military and civilian aircraft along the flight line.
• There will be a Kids' Zone including the Home Depot Craft Tent.
• You may bring your own lawn chair or blanket for seating or reserve bleacher or box seats.
• It gets windy on the tarmac, and air show attendees are encouraged to bring layers of blankets or jackets to stay comfortable.
• Consider bringing ear protection for young children, because the air show is very noisy.
• The following are not permitted: coolers, backpacks, food, drinks or pets. Baby and infant needs are allowed, but no glass bottles.
• Small camera and diaper bags are allowed, but subject to search.
• A handicap area is set aside for wheelchairs and an accompanist only.
• There will be food, beverage and vendor booths, virtual reality experiences and other attractions.
• Visitors will be directed to air field parking from both gates, and buses will make the rounds shuttling visitors to and from the air show site.
Need more information? Check our calendar listing