Bring Your Turkeys to the Alabama Gulf Coast this Thanksgiving
November 20, 2014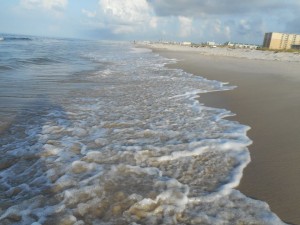 Serve your turkey with a side of sugar-white sand this Thanksgiving during your beach getaway in Gulf Shores and Orange Beach. Forget whose house the feast will be at this year and create a new tradition on neutral ground. Make this Thanksgiving one
to remember because it was full of fun, food and family at the beach.
The Alabama Gulf Coast has what you need for your Thanksgiving party, whether you're having dinner for two or dinner for 20, our accommodations will make you thankful you decided to celebrate here. Choose a beach house that can accommodate a crowd of in-laws. Pull up your piece of beach at a Gulf Shores condo or Orange Beach hotel and let everyone choose the beach vacation rental option that is right for them. Is camping the way you relax? Bring the RV and reserve a spot at one of Gulf Shores' campgrounds.
Dinner can be traditional – you can cook in your condo or cheat a little and bring in goodies from grocery stores and restaurants. Or, you can trade the turkey and dressing for fish, grits and hush puppies with a side of coleslaw. After the big dinner is over, relax with the big games or watch them at one of the Gulf Shores or Orange Beach restaurants and sports bars that will be open for Thanksgiving.
Love to shop? We've got Black Friday covered with outlet stores, cozy beach boutiques and unique places that will leave you oohing and aahing over one-of-a-kind gifts.
Work off your weekend of holiday feasting with a walk along the shoreline and feel the tension leave as your feet sink into the cool sand. Enjoy the still moments away from the crowd and prepare yourself for the big holiday season ahead. Experience a whole new state of Thanksgiving on Alabama's white-sand beaches.