Have a Holly, Jolly Christmas from the Alabama Gulf Coast
December 22, 2014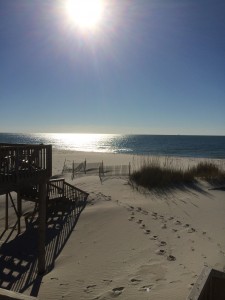 It's Christmastime all along the Alabama Gulf Coast, and nothing says that more than holiday light displays lining the way to the sugar-white sand beaches of your favorite vacation spot. It's been a wonderful year in Gulf Shores and Orange Beach as
we've welcomed friends and families to these sandy shores all year long.
A chilly winter in early 2014 made way for a blue-sky spring and breathtaking summer sunrises, followed by spectacular sunsets in the fall. We're ready to do it all over again in 2015, and we hope you'll join us for more fun in the sun after the New Year gets underway.
With the big day just a days away, we're reflecting on the merriment and excitement you find in Gulf Shores and Orange Beach all year long. There isn't a holiday that's not perfect for a beach vacation, especially Memorial Day, the Fourth of July and Labor Day. Bright sunshine, waves crashing on the beach, Low Country Boils and burgers on the grill are the sights, sounds and smells of these iconic beach holidays. But, other holidays are just as fun on our beaches. Beachside sunrise services add a special touch to Easter getaways, and you can't beat a game of sand football after a big, Thanksgiving feast! Of course, we can't forget about Valentine's Day. Nothing rekindles romance like a sunset walk on the beach.
With so many reasons to vacation on the Alabama Gulf Coast in 2015, it may be difficult to pick just one or two holidays to spend at the beach. But, until we see you again, we wish you and yours a very Merry Christmas.