Find Out What's In Store When You Add Golf to Your Meeting Agenda
May 24, 2019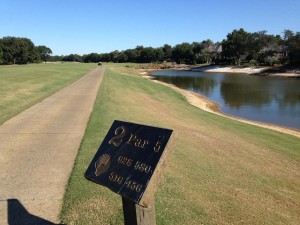 Destination meetings and golf go hand-in-hand. Consider adding 18 holes to your next beach meeting agenda. In the meantime, see what golf enthusiast and guest blogger Chris Boothman has to say about golf on the Alabama Gulf Coast.  Imagine striding
down the fairway of the 18th hole facing the daunting prospect of a putt inside three feet to make eagle! It may seem trivial for those who don't golf, but for any aspiring golfers out there, you will know the exhilarating thrillthat you feel after hitting the 3-wood of a lifetime to set up a perfect opportunity for eagle. Reminiscing over that experience in Gulf Shores, Alabama is already making me itch to get back on the golf course. You may be wondering what Gulf Shores has to offer for the golfing community. This part of Alabama is a golfing region that offers a variety of courses to suit both your ability and preference. We may never have the opportunity to play golf courses around the world that our PGA Tour counterparts are familiar with, but when you have championship courses such as those on the Alabama Gulf Coast, we can all have our moment in the spotlight. After reading this post you will be inspired to clean off those golf shoes, pack your clubs and grab that box of balls you received for Christmas before heading to Gulf Shores to experience exactly what I am talking about. Let's take a look at some of the golf courses available along this stretch of Alabama coastline.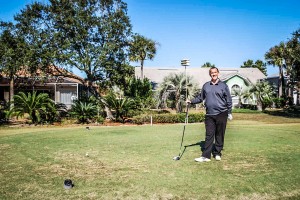 Peninsula Golf Club A 27-hole complex offering perfectly manicured fairways and lightning-quick greens, the Peninsula Golf Club is a challenging course even for the most talented of golfers. I was fortunate enough to play here and can honestly say that this is one of my favorite courses throughout the States. The layout of the course is a credit to the designer, Earl Stone, and the condition is impeccable year-round. Situated adjacent to the Bon Secour National Wildlife Refuge, visitors to this course are presented with breathtaking scenery and a relaxing ambience as you make your way around the Marsh, Cypress and Lakes courses. Any course where you can play in the heart of winter and still experience exquisite greens is a huge selling point in my opinion. This is exactly what we encountered at Peninsula during our recent winter getaway to Gulf Shores.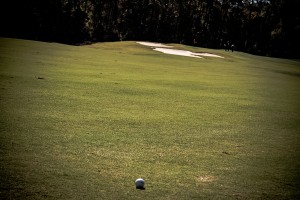 As an avid golfer, I was ready for the challenge, but playing Peninsula from the championship tees, I soon realized that this 7,000-plus-yard course was going to be a real test. Birdies were scarce and bogeys were a common occurrence, but the real winner from this round was the enjoyment level simply because of the quality of this course. I don't mind a bad score when I have the privilege of playing a course the caliber of Peninsula. So, are you sold on Peninsula? You should be! Don't worry, if this doesn't spark enough of your interest to sell you on a Gulf Shores golf getaway, there are many more to choose from. Craft Farms Craft Farms boasts two 18-hole complexes: Cotton Creek and Cypress Bend. Both courses are designed by Arnold Palmer and provide two very distinct masterpieces for any standard of golfer. Featuring a combination of rolling fairways and strategic designs, Cotton Creek offers a true championship challenge. For example, hole 6 is the ultimate risk-reward hole with your strategy determining whether a birdie opportunity or double-bogey is around the corner. Meanwhile, over at Cypress Bend, this course offers a little more generosity off the tee - but you are faced with many more undulating greens that will test your feel on and around the putting surface. Other Courses If you are interested in discovering more of the golfing landscape around Gulf Shores, why not check out a few other courses? Kiva Dunes is another high-quality course that is aesthetically pleasing to the eye and also offers a challenging yet rewarding experience. Renowned as the number-one course in Alabama by Golf Week magazine, it offers an unforgettable experience in close proximity to the Gulf of Mexico. Why Gulf Shores? If hearing about all these amazing golf courses isn't enough to sway your opinion, all you have to do is look at the other attractions that this part of Alabama has to offer. With a plethora of high-quality restaurants to choose from offering the finest seafood cuisine on the gulf, and historic attractions such as Fort Morgan, there is enough in Gulf Shores and Orange Beach to keep you entertained. The Alabama Gulf Coast also has an abundance of lodging options to choose from. One of the major selling points of Gulf Shores and Orange Beach has to be the climate. The mild winters make the Alabama Gulf Coast a perfect getaway for avid golfers from all corners of the globe. While golf aficionados around the world are packing their clubs away for the winter season, golfers that decide to take a trip to Gulf Shores can ensure their game stays in touch all year round. Summers offer gorgeous days to sample all of the courses. Regardless of your golfing ability and whatever course design you prefer, the Alabama Gulf Coast has something just for you. Whether it's the championship course at Peninsula or one of Arnold Palmer's famous Craft Farms designs, Gulf Shores is a golf haven worthy of any golfer visiting.