Jack crevalle kabobs: Eats like beef
June 24, 2019
During last month's Alabama Deep Sea Fishing Rodeo, Emily Muehlstein, a fisheries outreach specialist with the Gulf of Mexico Fishery Management Council, and I were watching the anglers bring their fish to the weigh dock.
"I've never seen so many jack crevalle," Emily said. "I hate to see all these jacks being brought in." I quickly calmed her concern.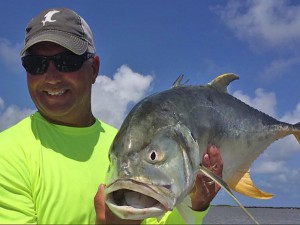 J"A drop in the bucket," I said. "We've got so many jack crevalle along the Alabama Gulf Coast that we could have a rodeo every weekend and it wouldn't make a dent." One of the fish in Alabama waters that puts up a big fight, jack crevalle hunt in schools. Dr. Bob Shipp, retired head of Marine Sciences at the University of South Alabama, likens a school of jacks to a pack of wolves. The jacks are relentless when they get a ball of pogeys surrounded. This time of year, Alabama inshore waters can provide an array of opportunities, and you have to be on the lookout to take advantage. Not only do you carry an extra rod or two with heavier tackle, you should always be aware of what's happening on the horizon, like birds diving for bait or shrimp jumping out the water, an obvious sign that a predator is on their tails. It's easy to figure out when a school of fish starts blasting through the baitfish near the surface. That school could be Spanish mackerel or, more likely, the drag-stripping jack crevalle. Grab that heavier spinning rod and reel loaded with 20-pound test line if the jacks blow up within casting range and sail a piece of or whole pogey or pinfish into the churning water. It usually only takes a couple of seconds to hook up and watch the fish take off like a runaway freight train. Better make sure the drag system is set correctly on the reel, because the initial run will test your tackle. Listen to the reel sing and hang on until that first run is finished. There will be subsequent runs until you can finally get the fish to the side of the boat. Previously, I thought the main benefit from catching jack crevalle was the fight, but I have since changed my mind. The fish is regularly consumed in places like the Caribbean, but not in Alabama where there are so many other tasty fish species. Chef Chris Sherrill of the Flora-Bama Yacht Club is responsible for my change of heart. I did a story earlier this year on Chris and his effort to prepare and serve under-utilized fish. One fish that was proving difficult was the jack, but he finally figured it out after the Yacht Club's fishing tournament gave him plenty of fish for experimentation."The jack's flesh is bloody, very red," Sherrill said. "It's red as beef." I got to thinking, I wonder if we treated it like beef if that would work. We wondered if we marinated it like beef and cooked it like beef if it would turn out like beef. So that's what we did. "We cut all the blood line out of the loin (known as the shoulder of the fish) and we marinated it in Worcestershire, lots of garlic, cracked black pepper and fresh rosemary. We chargrilled it to medium. When we tasted it, we were blown away. We decided to continue with that and added some au jus and horseradish sauce and called it Prime Rib Jack Crevalle Kabobs. It really reminds me of the most tender part of a ribeye." To say I was skeptical was putting it mildly. However, when he served our party a platter recently, everybody raved about the jack kabobs, including me. Last year, I recommended taking a photo with your jack crevalle and tossing it back. Still do that with most of them, but save a couple to test Sherrill's recipe. You'll be surprised beyond belief.