Holiday Fun on the Alabama Gulf Coast
December 10, 2015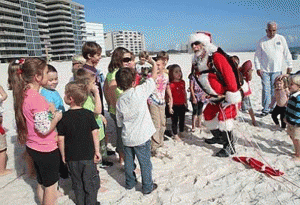 There's nothing like the holiday season on the beaches of Alabama. The holiday spirit mixed with the salty air makes it an enchanting place to be during December. So what is there to do while you're in town for a sporting event this month?
See Santa fly! The Santa Drop is Saturday, December 12 at Flora-Bama Lounge & Oyster Bar. Bring the family and kids to see Santa jump from an airplane and land safely on the beautiful white-sand beaches behind Flora-Bama! Delicious treats, pictures with Santa and tons of fun activities for the kids immediately follow his flight.
Meet Santa's brother! Also on December 12, Lucy Buffett's LuLu's presents Billy Claus and the LuLuBelles from 2-5 p.m. The entire family will enjoy meeting Santa's younger brother, who spends all his time in the Caribbean while assisting with the gathering of toy lists from the good children. For a real treat prior to Billy's arrival, come gather 'round to enjoy the story of Billy Claus and the Spirit of Christmas, written and read aloud by Ms. Lucy Buffett.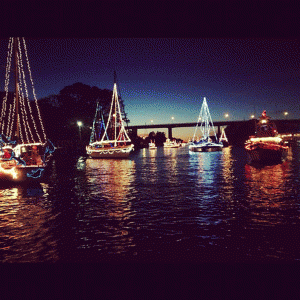 Catch the lights! Since you're already there, stay for the 30th Annual Christmas Lighted Boat Parade that starts at LuLu's Homeport Marina. It's a magical sight to see the boats with glittering lights as they cruise the water under the night sky.
Fill your ears with the sounds of the season! The Baldwin Pops Christmas Concert will be happening at 7 p.m. on December 15 at the Erie Meyer Civic Center in Gulf Shores. This organization of volunteer musicians from all over the region will be performing your favorite holiday tunes.
Start your morning with eggs, pancakes and Santa! The City of Gulf Shores presents Breakfast with Santa will be held at the Erie H. Meyer Civic Center on December 19. Families will be treated to a wholesome and delicious breakfast at 8 a.m., then have pictures taken with the jolly man himself.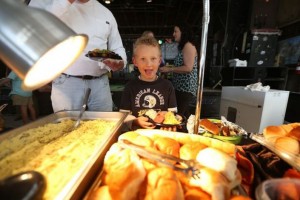 Share the holiday joy! On Christmas Day, the Flora-Bama will feature a Christmas Potluck from 1 until 3 p.m. The turkey and ham will be prepared by the Flora-Bama folks, making it a great place for family and friends to gather and celebrate. Patrons are encouraged to bring a covered dish to share. Live music will make it a festive and fun affair for all.
Which holiday event are you most looking forward to checking out?