Hit The Wharf for the Annual Boat Show
March 20, 2017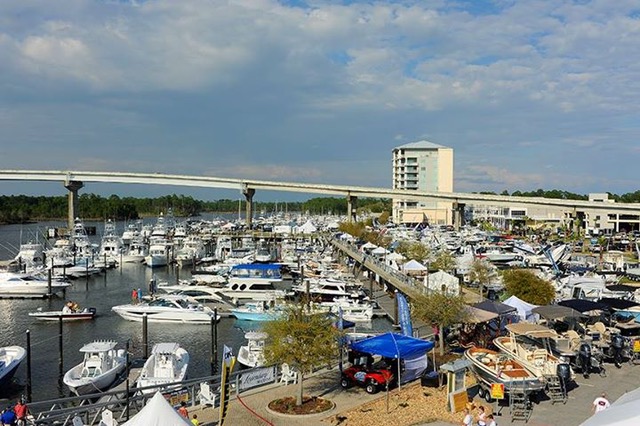 Browse through more than 800 boats at the annual Wharf Boat and Yacht Show in Orange Beach.
As favorite son Jimmy Buffett says, there is 'Somethin' 'Bout a Boat.' On any given day when driving over the Intracoastal bridge, boating past or just strolling around The Wharf, you can see millions of dollars of boats in the Wharf Marina. The show is March 23-26. There is also 'Somethin 'Bout Boats,' lots of them!
This weekend there will be more than $100 million of boats and marine inventory on display as The Wharf Boat and Yacht Show welcomes locals and visitors from the entire Southeast. This year there will be more than 800 boats on trailers and in the water, the most ever at the annual event.
"This show has quickly become the premiere boat show on the Gulf of Mexico," Angelo DePaola of Bluewater Yacht Sales in Orange Beach said. "It's not just the boats that are here that make this a special weekend. It's the fact that the show is family friendly and there is something here for husbands, wives, girlfriends and kids.
This show is a must do for boating enthusiasts." There is no doubt all of the activities taking place during this show have helped to grow this event into a huge draw every March in Orange Beach. The ladies fashion show and 'Ladies Day' on Saturday, kids art classes all weekend, being a dog-friendly environment, discounts for locals, military and law enforcement officers and their families all adds up to a fun weekend. But the stars of the show are still the boats.
"With over 800 boats on display, we have boats from the smallest bay boats and runabouts all the way up to the largest sport fishing yachts you'll see anywhere in the country," Chris Miller with The Wharf Boat and Yacht Show said. With that much fiberglass on display, it's easy to imagine feeling a bit overwhelmed if you are in the market for a new boat. There is no need to not feel totally at ease while shopping at a boat show.
Remember, if you are looking to buy a boat to add enjoyment to your life, don't let shopping stress you out. "The most important factor in finding the right boat, is finding a boat that best suits your needs," Tyler Drinkard of Gulf Shores Power Sports and Marine said. "That is why we bring so many boats to display at this show." Whether it's offshore fishing or family cruising, boat shows allow you to ask lots of questions and compare boats for not only pricing but also options that will make every day on the water most enjoyable.
Last year more than $21 million in boats were sold at this show which confirms that 'boat-show pricing' is a real thing. Manufacturers incentivize dealers to help them move inventory at the beginning of the season, when almost all boat shows take place. The Wharf Boat and Yacht Show opens with a VIP, invitation-only red carpet event on Thursday from 2-6pm (ask your favorite boat dealer for a ticket!). Tickets for the show are $10 and kids 12 and under are free. Friday is Locals Day from 10am-7pm (just $7 entry with local ID), Saturday is Ladies Day from 10am-7pm and the show wraps up on Sunday with Military Appreciation Day ($7 entry for active and retired military, law enforcement, and their families) from 10am-5 pm.