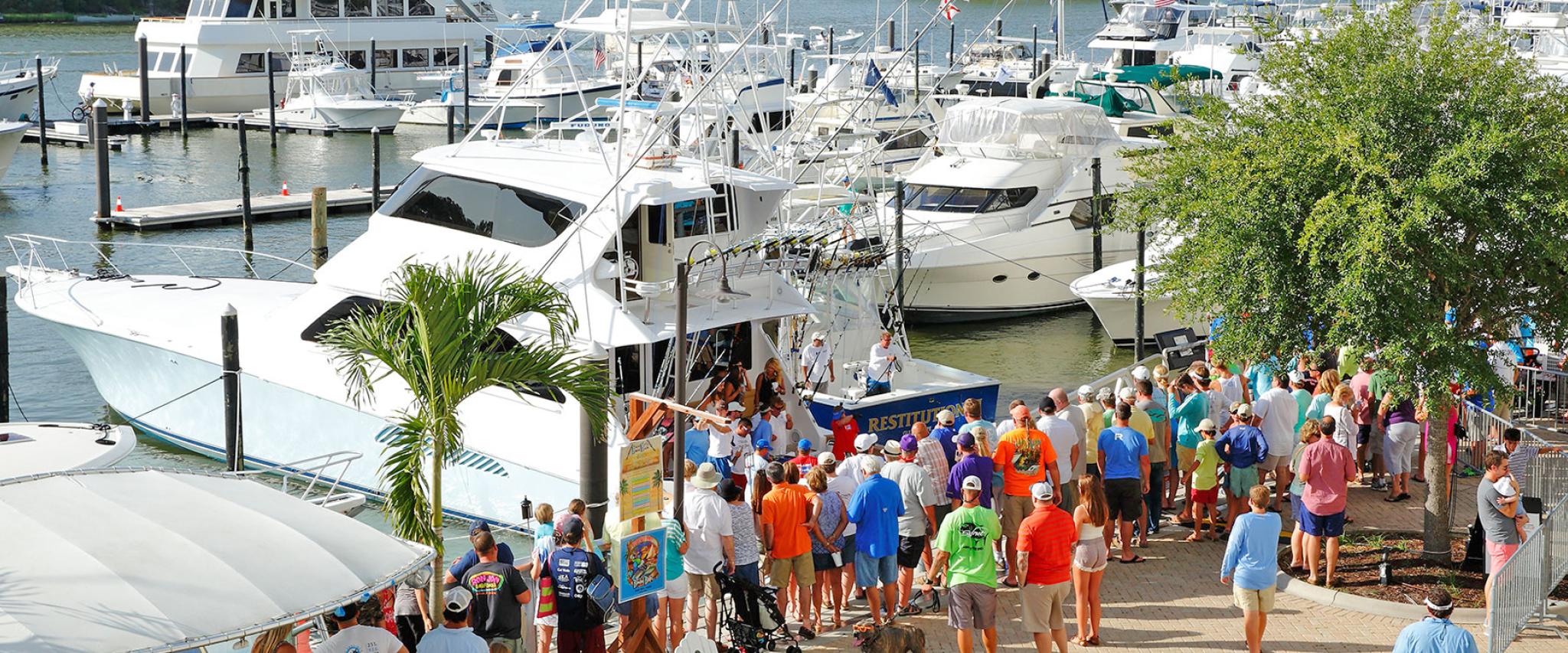 Head to The Wharf in July for the Blue Marlin Grand Championship
July 15-19, 2020
May 6, 2020
After last year's cancellation due to weather concerns, plenty of pent-up demand can be expected for the 2020 Blue Marlin Grand Championship, called the "Greatest Show in Sportfishing," at The Wharf in Orange Beach this summer. The Gulf Coast's premier big game tournament will give spectators, tournament participants and sponsors a variety of activities for the whole family from July 15-19 at one of the top entertainment destinations in the South.
The top anglers in the nation will compete in five categories – blue marlin by weight, catch-and-release, dolphin (mahi), wahoo and yellowfin tuna. Blue marlin must be 110-inch minimum size to be weighed. Weighed blue marlin will be awarded one point for each pound up to 499.9 pounds. Any blue marlin 500 pounds or larger will be awarded two points per pound. For example, a 750-pound blue marlin will be awarded 1,500 points.
In the catch-and-release category, each blue marlin gets 501 pounds, while white marlin and spearfish are awarded 250 points, and sailfish or unidentified billfish earn 200 points.
Boats docked at The Wharf Marina may depart behind the tournament pace boats at 9 a.m. Thursday, July 16. Boats docked elsewhere in Orange Beach may depart through Perdido Pass behind the pace boats and tournament fleet. All tournament boats must depart through either Mobile Pass or Perdido Pass behind the pace boats. Fishing is allowed from time of departure until return on Saturday, July 18.
For anglers lucky enough to catch a blue marlin on Thursday, an optional early-bird weigh-in is available on Friday, July 17, but the boat must notify tournament officials Thursday evening to set up a weigh-in time.
 
Regular weigh-ins, hosted by Jim Cox and Kelly Jones Finley, are set for 5-8 p.m. Friday and 5-9 p.m. on Saturday. For spectators who want to watch the boats return to the weigh dock, all tournament boats must return to The Wharf for weigh-in through Sailboat Bay.
The tournament kicks off for participants and sponsors with the team check-in and optional entry registration from 10 a.m. to 5 p.m. on Wednesday, July 15 at the Marina office, tournament headquarters. A Kick-Off After Part, which includes the Triple Crown Challenge Fighting Chair Contest, is set for 9-11 p.m. Wednesday.
Boats depart The Wharf at 11:01 Thursday, July 16. Spectators can take part in the Orange Beach/Gulf Shores Billfish Boat Parade by lining up along the Intracoastal Waterway on Canal Road to watch the tournament boats head toward the Gulf of Mexico
The Sponsor Village and Billfish Boat Show opens at The Wharf at 5 p.m. Thursday and Friday and 4 p.m. on Saturday.
Winners in the Blue Marlin Grand Championship (BMGC) will be announced about 10 p.m. Saturday or after all boats in line at the cut-off time have been weighed. The BMGC is the final tournament in the Gulf Coast Triple Crown Championship series, and the Triple Crown winners will be announced at the awards ceremony breakfast at 9 a.m. Sunday, July 19.
A portion of the tournament proceeds will be donated to St. Jude's Children's Research Hospital.
Plan to visit The Wharf for a chance to see some of the largest fish from the Gulf weighed in, not to mention all of the entertainment and dining options available at the Coast's premier destination. As always, plenty of free parking is available.