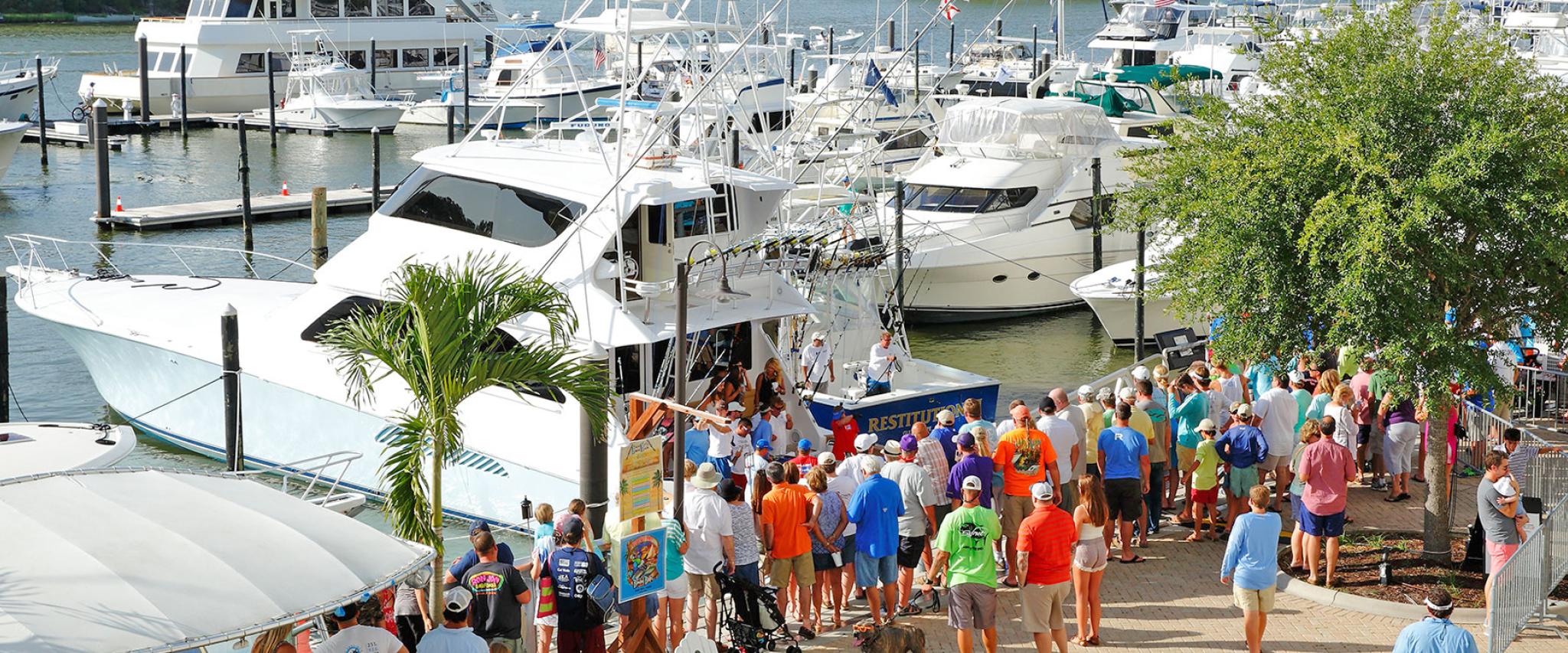 2019 Blue Marlin Grand Championship Takes Center Stage, July 10-14
This Event Has Been Cancelled
March 28, 2019
"It's like the Super Bowl of Fishing," said Joey Birbeck, captain of 2016 Blue Marlin Grand Champion boat.
We claim a lot of things here along our coast as "The Greatest." We all know our beaches, hospitality, seafood, Red Snapper fishing and family-friendly atmosphere are indeed "The Greatest!"July 10-14 we get to celebrate another one of our "Greatest" offerings. The Blue Marlin Grand Championship, The Greatest Show in Sportfishing takes place at The Wharf in Orange Beach. More than 60 of the best big-game fishing teams in the world will be competing for more than $1.5 million dollars.
Quite simply there in no other tournament like this anywhere in the world for many reasons. First, it's an invitational tournament. You have to be invited to participate, which is the fishing equivalent of being asked if you want to play a round at Augusta National Golf Club.
But what makes this event most special are two things: the venue and the fans. The tournament weigh-ins take place at Marlin Circle at the end of Main Street at The Wharf. Usually tournament weigh-ins take place at marinas, not in the middle of an entertainment district with shops, dining establishments and condos.
As boats back into the marina basin, fish are unloaded and placed on carts to be moved from the marina to Main Street. The fish are paraded by waterfront restaurants and an outdoor boat bar before both the fish and the tournament teams make their way to the weigh tower. Once they arrive, they are greeted by thousands of fans who have packed Main Street and balconies to see the biggest fish in the Gulf be weighed either up close or on the two giant LED jumbotrons.
"It has to be the closest thing to being a rock star and walking out on that stage to start the show," said Jason Buck, captain of the boat Done Deal and local fan favorite. "I know the fans love seeing these beautiful fish, but I hope they all realize how much they mean to us! To have that many people cheering for us as we weigh our fish is the most special feeling at any tournament. I think I can speak for every captain, owner and crew member when I say 'thank you' to the greatest fans in sportfishing for coming out to The Wharf to see us every year."
The fleet will depart from The Wharf at 11 a.m. on Thursday morning, July 12, and that is when the fishing tournament officially becomes a spectator sport! Teams can either leave via Mobile Bay or Perdido Pass. Those teams leaving through Mobile Bay create an amazing display of beautiful sportfishing yachts heading down the Intracostal Waterway along Canal Road just west of The Wharf. Fans get there early and pull their cars off to the side of the road to watch the teams head offshore. As for the fleet that chooses to depart through Perdido Pass, this also gives fans a great chance to see the boats from public beaches or at a waterfront restaurant like The Gulf or Cobalt.
Weigh-ins take place from 5 to 8 p.m. on Friday and 5 to 10 p.m. on Saturday night. If you can't make it to the weigh-ins, both nights will be streamed online at bluemarlingrandchampionship.com and Saturday night's weigh-ins will be broadcast live on the Blue Marlin Grand Championship Television Network from 7 to 10 p.m. on Local 15 (NBC) as well as on stations in Birmingham, Nashville and Panama City.
There is no charge to watch The Blue Marlin Grand Championship or to park at The Wharf. The event is family-friendly with kids activities and the Blue Marlin Miler 5K and 1 Mile FunRun for St. Jude on Saturday morning. Also, don't miss kid's art activities with tournament artist Larry Rackley.