Colorful Explosions Light Up the Sky at the Beach
May 23, 2018
If you are lucky enough to be spending the all-American holiday on the Alabama Gulf Coast, you will find no shortage of exciting events. Whether you prefer a low-key day at the beach, want to indulge in finger-licking cuisine or delve into Civil War history, plan your July 4th getaway today. Independence Day Fireworks Displays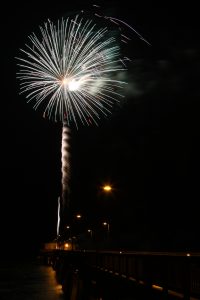 Your family will love the Independence Day Street Party and Fireworks display at The Wharf on July 3. Kids activities begin at 5pm and will include bouncy houses, a rock climbing wall, face painting ($5-$10), a monkey and llamas to feed and pet, a surfboard simulator, games, prizes, and much more. Fireworks will start at 8:45pm over Main Street, and the SPECTRA Sound and Light Spectacular will follow. Watch stunning fireworks sizzle, boom and bang on the beach at The City of Gulf Shores' Fourth of July Fireworks Celebration on July 4 at 9pm. Grab your beach chair and watch the colorful show near the Gulf State Park Fishing and Education Pier. For a fun-filled July 4th starting at 6pm, check out the Independence Day Celebration at Perdido Beach Resort. You'll enjoy a delicious BBQ buffet, spectacular fireworks show and dancing to live entertainment by the Mixed Nuts.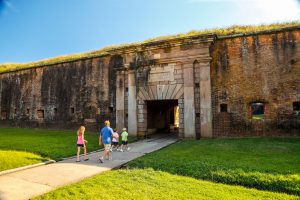 Other Not-To-Be-Missed Events Listen as The 151st Army Detachment Band performs at Fort Morgan on July 2 from 10am-12pm. Stroll the grounds of Fort Morgan and admire the WWI Photo Gallery Living History Event on July 3 from 9am-3pm. Historians and site staff dressed in period uniforms explain domestic life, medical and cavalry training and recreational activities inside Fort Morgan during WWI. For a different outlook on Fort Morgan, you'll enjoy the Tuesday Evening Living History Tour on July 3 from 6-7pm. Historians and site staff dressed in period uniform will provide historical insights on various periods of Fort Morgan's history and the life of people who worked and served there. Artillery and small firearm demonstrations will be given to show how much work is involved.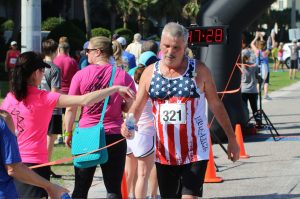 Want some exercise before you indulge in some delicious BBQ? Join us for The Shark Run on July 4 from 7am-12pm at Flora-Bama Lounge and Oyster Bar. Hungry sharks will try to steal your flags so avoid them at all costs to win unique awards and prizes. Independence Day weekend on Alabama's Gulf Coast means colorful fireworks, mouthwatering BBQ, sugar-white sand beaches, and much more. Check out all of the fun July 4th activities and events today.