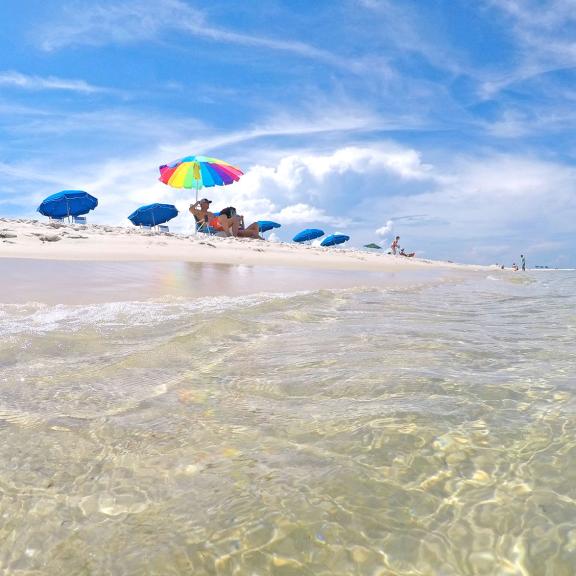 4 Places to Relax After a Beach Tourney
For most athletes, games are still serious business. Once the games are over for the day, you need a way to relax and gear up for the next challenge.
December 3, 2018
Lucky for you, playing at the beach means you get to play at the beach! Here are some of our favorite things to do to wind down after a day of tough competition.
Hit the Beach
What better place to relax than by putting your toes in the sand in the most beautiful beaches  around. The Gulf air and the sound of waves crashing will do wonders for the soul and even the most competitive spirit. A walk on the beach or a dip in the Gulf is the best way to celebrate a great win, or soothe the agony of defeat.
Wind Down on The Backcountry Trail
The Hugh S. Branyon Backcountry Trail complex offers nearly 10 very diverse trails to wander and explore. On these trails you can explore marshes, swamps, and tall pine forests. Keep an eye out for wildlife and you might spot a couple of alligators, foxes, and white tail deer. Take a break from the trails and check out Boulder Park and the Butterfly Garden. If walking or jogging isn't your thing, you can rent a bicycle or take a Segway tour!
Eat at "The Original"
The Original Oyster House, that is! Since 1983, they have been cooking up some of the best local seafood dishes with a Southern twist. With signature dishes like Blackened Mahi on the Bayou, Fire-grilled Oysters, and Peanut Butter Chocolate Chip Pie, it's no surprise The Original Oyster House is top on the list for locals and visitors alike. There are also some great shops nearby offering unique gifts and souvenirs.
Go Fish with Reel Surprise Charters
They say good things come to those who bait, and the pros at Reel Surprise Charters can help you plan the perfect fishing adventure for you and your crew. Shared expense trips are affordable, and excursions last four to six hours which means you can squeeze in a trip after your morning game.
How do you like to unwind after a day of competition? Let us know in the comment section below.