Gulf State Park has become a mecca for lovers of the great outdoors vacationing on the Alabama Gulf Coast. A destination within the destination, there's so much to see and do within the park's 6,150 acres and 28 miles of trails. Scroll down to learn more about the activities and other things to do at Gulf State Park.
 
Activities, Recreation & Things to Do
If you're wanting to enjoy the park's public beach access, then the Gulf State Park Beach Pavilion is the spot for you. Located just six miles east of Hwy. 59, this access point provides visitors with three miles of spacious beaches, allowing guests room to spread out safely. The pavilion was recently renovated and now features air-conditioned restrooms. Additional improvements are currently underway to better accommodate events. All-day parking at the pavilion is $10 and $5 for four hours for most vehicles. There is also plenty of room for RV parking. 
Making the Most of Your Time in Gulf State Park
Adjacent to Gulf Shores and Orange Beach is Gulf State Park with 6000 acres spanning the Alabama Gulf Coast and is home to nine unique ecosystems. Once in the park, you will find three lakes, trails, dining, and lodging. You also can't forget the three-and-a-half miles of beach for you to enjoy. Whether you like relaxing or want to take an adventure, Gulf State Park has something for everyone to enjoy.
Gulf Shores & Orange Beach Family Vacation Activities
Things To Do in Gulf Shores & Orange Beach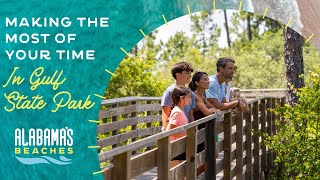 Making the Most of Your Time in Gulf State Park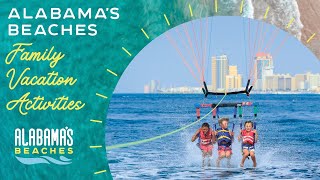 Gulf Shores & Orange Beach Family Vacation Activities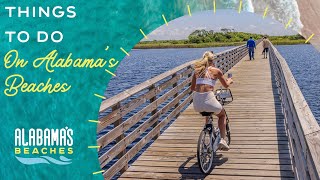 Things To Do in Gulf Shores & Orange Beach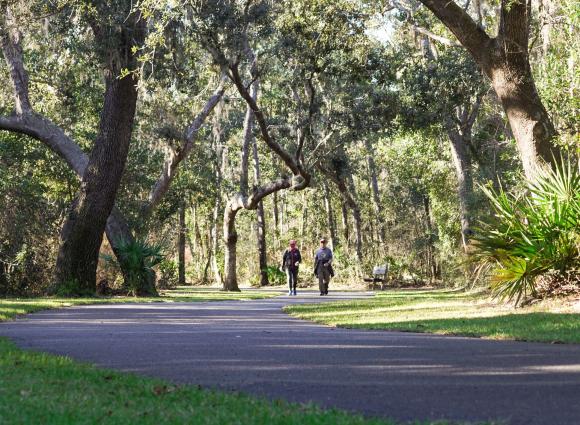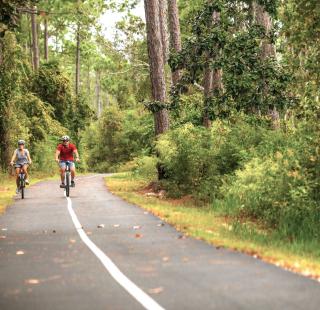 Hugh S. Branyon Backcounty Trail
The Hugh S. Branyon Backcountry Trail is an award-winning 28+ mile paved trail system that takes visitors throughout the 6,150 acres of Gulf State Park. USA Today named the Hugh S. Branyon Backcountry Trail the best recreational trail in the country for 2023. The trails are multi-use, meaning they are suitable for hikers and cyclists and are ADA-accessible. There are trailheads surrounding the perimeter of the park, making it easy to find and access while vacationing on our shores. While many enjoy walking and hiking on the trails while taking in the views, if you want to cover more ground, we suggest biking or booking a Segway tour. Check out the trail map and begin exploring! 
The park has made biking easier for its guests by implementing a free bike share program. There are 50 bikes available to rent at stations scattered throughout the park. To ride, simply download the Bloom Bike Share App and scan the code at the station. The first three hours are free of charge. And, when you're done, return the bike to your nearest station.
For a full day of sightseeing, consider traversing through the trails on an e-bike. Electric bicycles are available to rent at several bicycle outfitters in Gulf Shores and Orange Beach. E-bikes are allowed in the park and along the trails as long as they do not exceed 10 mph.
If you'd like to travel the trails by Segway, contact Coastal Segway Adventures, located at the main park office near Lake Shelby. They offer two-hour guided tours throughout the park. Their knowledgeable staff will first run through some safety drills and information. Then, they'll guide you along the trails sharing information about the park and the wildlife that inhabit it. Most tours also include a stop to say "hi" to the park's resident alligator, Lefty.
The park recently welcomed a new addition to the Backcountry Trail – Hammock Park. Located at Hidden Lakes Trails, you can bring your hammock and hang out at one of the seven hammock spaces. This is a fantastic spot to lie back and relax after a morning or afternoon of biking, hiking or kayaking at Gulf State Park.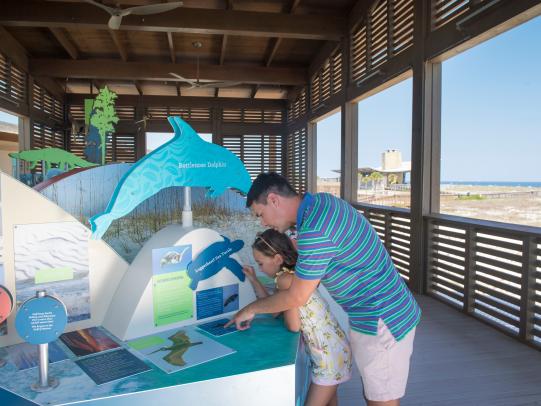 Interpretive Center
Located right next to the Gulf State Park Beach Pavilion is the park's Interpretive Center. The center is pursuing both LEED Platinum and Living Building Challenge certifications, making it the most environmentally friendly building in the state. Visitors to the beachfront facility learn more about why and how the park plans to meet these certifications while also becoming educated on the park's sustainability initiatives.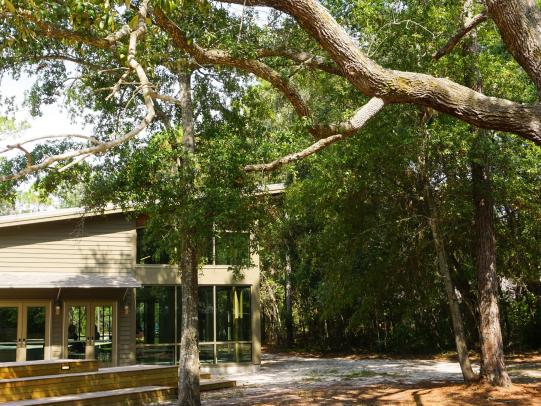 Learning Campus
One of the newest additions to Gulf State Park, the Learning Campus is a robust facility built for educational day and overnight programs. Their trained field naturalists ensure that the activities are fun, safe and informative for groups of all ages. Some of their programs include nature walks, arts and crafts, solar cooking lessons and more. The Learning Campus is also the current location of the Gulf Coast Center for Ecotourism and Sustainability which provides the area with workshops and other activities in partnership with Jean-Michel Cousteau's Ocean Futures Society.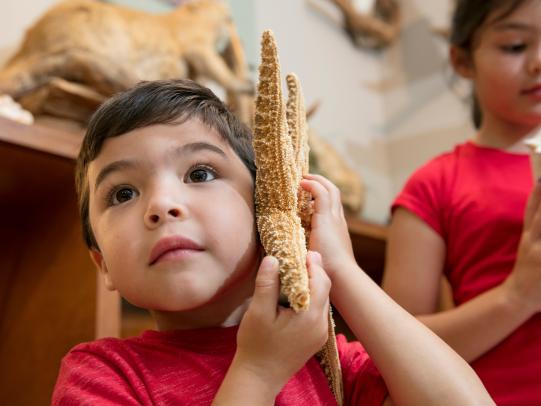 Nature Center
Learn everything you need to know about the flora and fauna in Gulf State Park at the Nature Center. This is a living museum that showcases plants and animals that are native to the Gulf Coast region. The center's knowledgeable staff are available to answer all of your questions. Throughout the year, they host educational events and activities to give visitors hands-on experience with the natural wonders found along Alabama's beaches.
Gulf State Park Locations with 360 Video Tours
Dining at Gulf State Park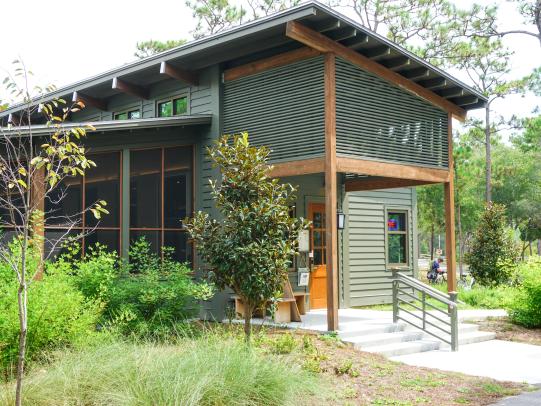 Woodside Restaurant
Nestled within Gulf State Park is Woodside Restaurant, a relaxing eatery with a variety of creative Southern-style dishes. Offering breakfast, lunch and dinner, you'll find plenty of menu options including veggie omelets, biscuits and gravy, smoked BBQ, burgers, crab cakes and more. Guests can choose to enjoy their meal in the main indoor dining room, on the screened-in porch or outside on their shaded deck. And Woodside is the ideal spot to kick-off or end a day of biking at the Gulf State Park because it's one of the locations for the park's bike rental program. The restaurant also hosts live music weekly as well as other seasonal events.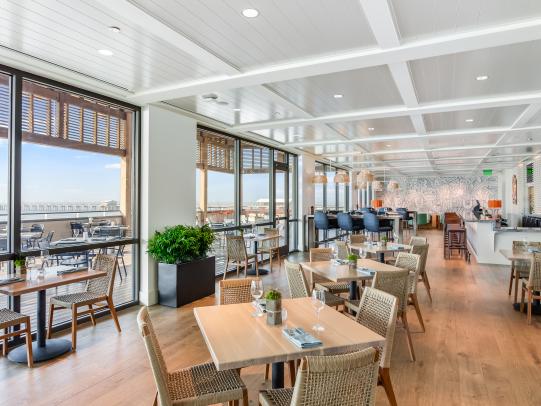 Foodcraft
Come for the food and stay for the views at Foodcraft, located at The Lodge at Gulf State Park. This casual beachfront restaurant serves coastal classics while utilizing seasonal and locally-sourced ingredients. With everything from Insta-worthy avocado toast to Gulf oysters prepared five different ways, you can't go wrong when dining at Foodcraft. They also offer an extensive drink menu complete with handmade cocktails, regional craft beer and wine.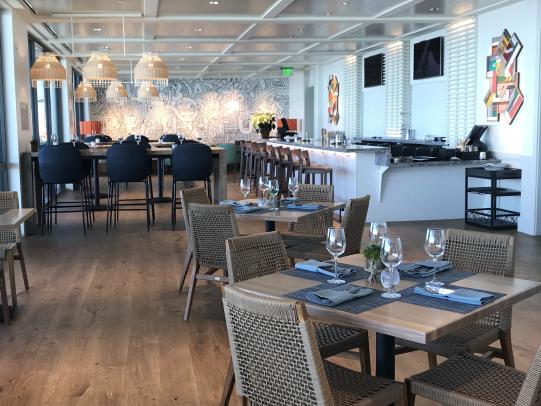 Perch
Also at The Lodge is Perch, the hotel's fine-dining experience. Overlooking the sugar-white sand beaches and pristine Gulf waters, this eatery is one you'll be craving to return to year after year. Like Foodcraft, Perch prides itself on sourcing products from local fishermen and regional farmers. Open for dinner only, their menu includes items such as house-smoked pork belly, filet mignon, fresh catch, yellowfin tuna and more. After dinner, cozy up with a cocktail and dessert on the patio which features two fire pits and plenty of spacious outdoor seating.
 
Lodging & Accommodations at Gulf State Park
Contact Information For The Gulf State Park