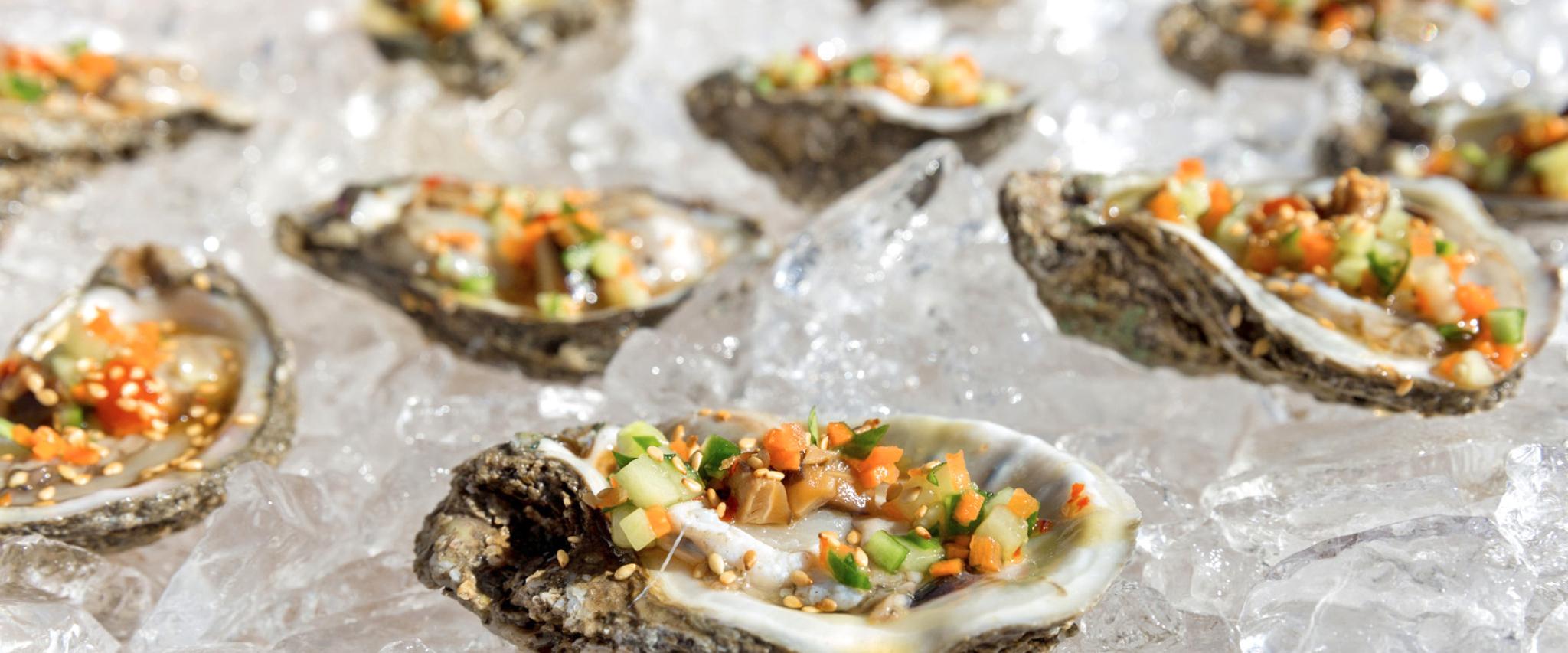 7 Ways to Love Oysters on Alabama's Beaches
Gulf Shores and Orange Beach are havens for fresh seafood, including oysters.
December 11, 2018
Especially if you are an oyster aficionado, there are some eateries in coastal Alabama that you really shouldn't miss.
The Original Oyster House offers oysters prepared in traditional ways, including fried and on the half shell, but they also serve some proprietary dishes using this Gulf favorite. Try Parmesan Garlic Oysters with garlic butter, parsley and cheese, or Joe and Dave's Favorite Oysters baked in garlic cocktail sauce with Bill-E's small-batch bacon and grated parmesan cheese. Can't decide? Get the Shell Shocked Oyster Sampler!
The Royal Oyster is a small restaurant specializing in flavor-packed boutique oysters and other local culinary dishes. Locally sourced, fresh ingredients make the difference in their oyster creations. In fact, the full-service oyster bar is filled with oysters homegrown in Fort Morgan. It's more than a dish, it's an experience.
Brick & Spoon boasts a fun way to eat oysters for breakfast or brunch. Try dishes such as Oyster Bed - an English muffin with cornmeal-dusted oysters, pecan-smoked bacon, tomato, poached eggs and rosemary hollandaise - or Deviled on the Bayou, which includes tasso deviled eggs topped with fried oysters and Sriracha aioli.
If you love traditional deep-fried oysters, check out Acme Oyster House. Hand-shucked oysters and classic New Orleans seafood dishes are what you'll fall in love with at Acme.
Wood-fired oysters are simply perfect from Villaggio Grille at The Wharf. Eight oysters come in each order of Prosciutto Rockefeller (fresh oysters with prosciutto, spinach, cream and parmesan cheese) or Garlic Butter Oysters (fresh Louisiana oysters topped with a garlic and butter mixture). Can't decide? Order the Half & Half — four of each!
Using fresh oysters from the local Bon Secour Fishery, King Neptune's Seafood is a long-standing restaurant in the Gulf Shores community. With extraordinary choices such as South of the Border Oysters and Pinenut Pesto Basil Oysters to go along with traditional favorites of Parmesan Garlic Butter Oysters and Oysters Rockefeller, diners will taste flavorful combinations that will bring them back again and again.
Mikee's Seafood Restaurant has been serving up fresh, local seafood since 1987. Enjoy a pound of royal reds or some fried oysters on a po' boy sandwich. Either choice will leave you with a full stomach and delicious memories.
Satisfy the oyster lover in your group with some local fare. Do you have a tried and true oyster favorite in Gulf Shores and Orange Beach?