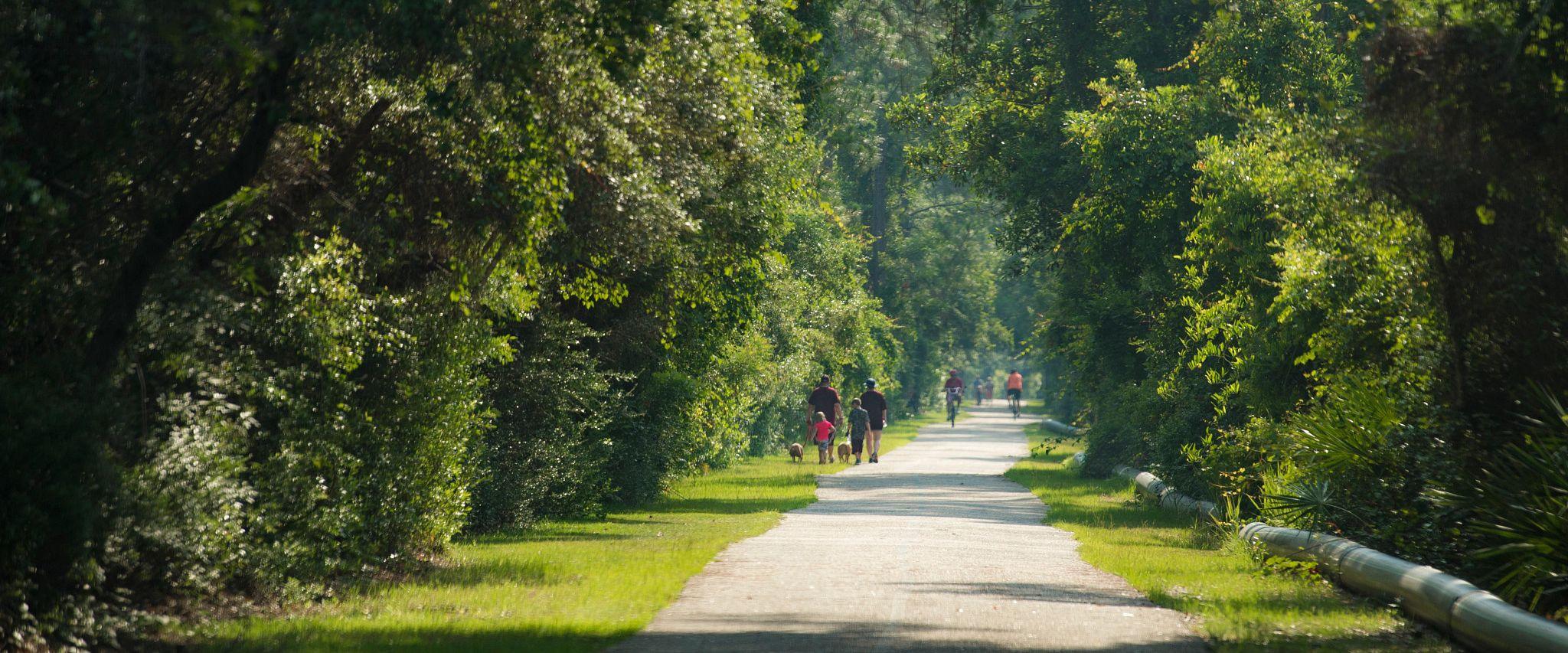 7 Places for a Change of Scenery in Gulf Shores and Orange Beach
We have all been dreaming of getting outside and exploring more this summer.
The walls of our house have been our constant scenery for a while and now it is time to get out and see some new places that are close to us, but still an adventure.
Today we are sharing our favorite places for a change of scenery in Gulf Shores and Orange Beach. Our goal is to share places you may have heard of but have not had a chance to get to.
Gulf State Park
Ok, I am guessing you have heard of Gulf State Park, but have you gotten away from the crowds and explored the park? Gulf State Park is more than just the pristine sand and surf on the southern-most tip of Alabama. Just across the road from the beach area lies the 900-acre Lake Shelby. This quiet spot is a great place to get away from it all. Hop in a kayak and paddle through the lake or enjoy a scenic lakeside picnic. 
The Hugh S. Branyon Backcountry Trail system winds through the park, connecting the cities of Gulf Shores and Orange Beach. There are 28 miles of trails through the park that are perfect for enjoying time outside. Twenty-four miles of these trails are paved making it easy to get out and explore. 
Remember to step to the side when you see people coming by and maintain a safe healthy distance from other park visitors. While in the park you can look at for the sand and shell mounds that are part of the Native American Mound Trail. 
Bon Secour National Wildlife Refuge
The Bon Secour National Wildlife Refuge has a great trail system and access to the beach and sand dunes. You can get out and see more of the coastal dunes that make this secluded area that much more appealing for those seeking to get away from the crowds. 
Entrance to Bon Secour National Wildlife Refuge is fee-free. Stop in at the refuge office for a map of the trails and information on the types of flora and fauna you'll encounter while in the refuge. The park office is located at 12295 State Highway 180 in Gulf Shores.
Wade Ward Nature Park
Wade Ward Nature Park offers the opportunity to explore natural wetlands and waterways. There is an elevated boardwalk that connects Little Lagoon and Lake Shelby. Keep an eye out for pelicans, alligators and otters while you're exploring. 
The area is also part of the Alabama Coastal Birding Trail which showcases great places to see migrating and local birds. Wade Ward Nature Park is located at 500 Gulf Shores Parkway in Gulf Shores.
Bamahenge
Yes, you read that right...Bamahenge! The Alabama version of Stonehenge is in Elberta, Alabama approximately 30 minutes from Gulf Shores. Built for Alabama billionaire George Barber by artist Mark Cline back in the 1990s you can now check out this fun piece of art. 
Dinosaurs in the Woods
Not only can you see a replica of Stonehenge in Elberta, but while you are exploring you can step into your own episode of Jurassic Park. No need to fear though, these dinosaur sculptures won't bite, but are fun to look at and will provide lots of Insta-worthy pictures. 
Lady in the Lake
Now that you have seen Bamahenge and dinosaurs in the woods it is time to see the Lady in the Lake. Just a short drive further down the road, you can see the Lady in the Lake, a 50-foot sculpture that floats in the water off of  Barber Marina. Visit at 26986 Fish Trap Road in Elberta.
Fort Morgan State Historic Site
Historic Fort Morgan is located on Mobile Point and offers wonderful green spaces to stretch your legs. Pets are allowed, so grab your dog leash and favorite furry friend and head out to Fort Morgan to learn more about this Civil War-era fort. 
Make sure to grab some take out from a great Gulf Shores or Orange Beach Restaurant before you head out to explore a change of scenery.