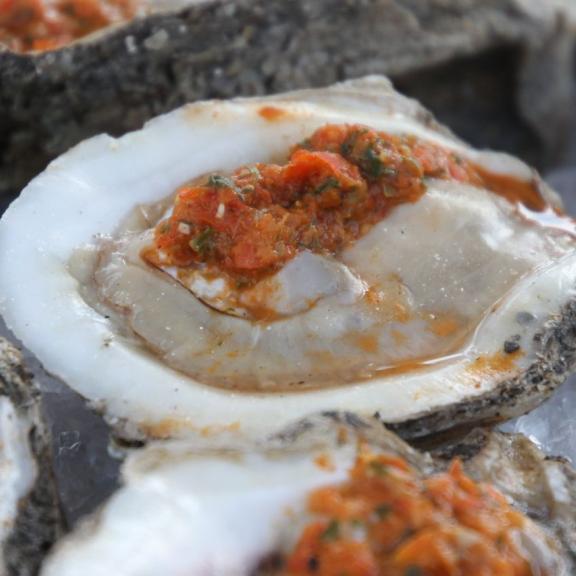 Explore a Boutique Oyster Farm Right in Gulf Shores
It's no secret that Gulf Shores is the place to go for fresh, local seafood.
October 27, 2020
Its coastal location and abundant marine life pack restaurants across the Alabama Gulf Coast with mouth-watering delicacies from its own shores. 
But one local provider is really flexing its mussels in the local seafood game: Navy Cove Oysters. This boutique oyster farm is nestled on the southern tip of Fort Morgan Peninsula in Gulf Shores, and they supply the area with fresh, premium Gulf Coast oysters you have to taste to believe.
So how do they make such succulent shells, and why are their oysters so special? Read on to get a first-hand look at this local gem! 
Three Cool Facts About Navy Cove Oysters
What Makes Navy Cove Oysters So Special?
Location, location, location. Navy Cove is perfectly situated between the salty tides of the Gulf of Mexico and the productive waves of Mobile Bay, keeping the oysters in a perfect blend of tidal exchanges. This results in oysters that are both savory and sweet, soft and solid.
As the experts put it, "Navy Cove Oysters are characterized by an umami of moderate brine, a rich, creamy, buttery texture and sweet, cucumber-like finish." Their bread-and-butter is medium-sized oysters with the perfect hint of salt, but they also offer larger or smaller sizes in a variety of salt contents for purchase. 
Navy Cove is also known for its dedication to freshness. They harvest every Thursday and Monday, guaranteeing a fresh order every day of the week. Sassy Bass Amazing Grill & Market is right across the street from the site and serves delicious oysters on the half-shell within 24 hours of harvest. 
How Can You Get in on the Oyster Action?
Navy Cove Oysters can be bought by the dozen or in 100-count boxes at Bon Secour Fisheries or Sassy Bass Amazing Grill and Market. 
For curious visitors, Navy Cove Oysters offers tours of the farm each Monday at 10 am and 2 pm. Spend 1-2 hours immersed in the waves of Mobile Bay as you learn about the area's ecology and Navy Cove's sustainable farming techniques. Tickets are $35 per person, free for children under 10.