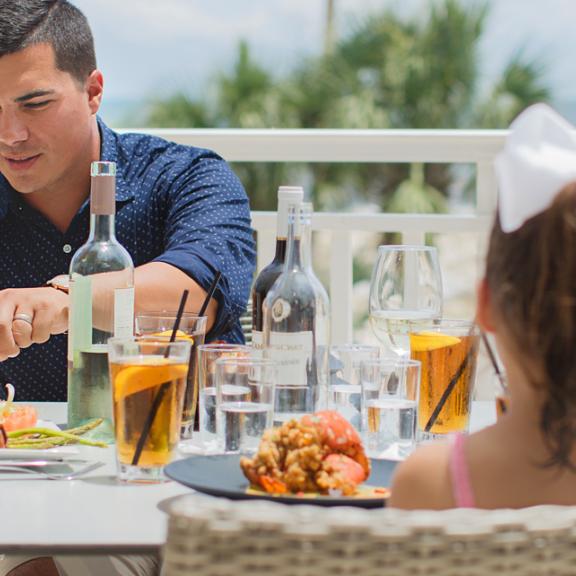 Crab Cake Recipe
Sink Your Teeth into Something Savory
August 3, 2021
On the Alabama Gulf Coast, we believe seafood makes everything better. That is why we find unique ways to add seafood to everything! We add it to our Bloody Mary's, pile it on our plates, and even turn it into savory cakes stuffed with juicy crab and creole spices.
Crab cakes are a specialty in Gulf Shores and Orange Beach, and Chef John Hamme has a to-die-for recipe that keeps visitors coming back to Coast Restaurant, where he is executive chef, time and time again. Loaded with jumbo crabmeat and topped with a creamy creole mustard butter, these cakes aren't meant for dessert - but they're sure to hit the spot.
"I have tried crab cakes almost everywhere and many of them are full of filler," he said. "This recipe is all crabmeat with just enough binder to hold them together." Chef John added what he loves about the Alabama Gulf Coast is the readily available seafood. "Growing up basically on the Chesapeake Bay, I was introduced to fresh seafood at an early age. The Gulf Coast has a couple of major advantages over Chesapeake Bay. One being the mild winters and the second being red snapper. This is a beautiful area to live if you like all the things living on the water offers, from fishing to just floating around."
Chef John's Crab Cake Recipe at Coast Restaurant
Yields: 6 servings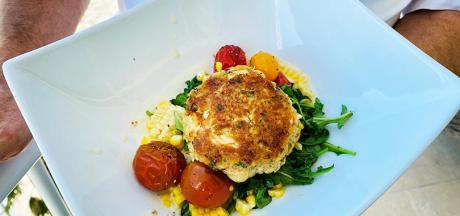 Ingredients
2 Tbsp Mayonnaise
2 Tbsp Worcestershire Sauce
1 Tbsp Baking Powder
2 tsp French's Mustard
1 Tbsp Parsley Flakes
2 tsp Old Bay Seasoning
1 Lemon, Juiced
1 Egg, Beaten
1 lb Jumbo Lump Crabmeat
1 lb Claw Crabmeat
4 Tbsp Saltine Cracker Crumbs
4 Tbsp Vegetable Oil
Directions
Combine ingredients in a mixing bowl to make the crab cake mix.
Place crabmeat in a pan large enough to spread into a thin layer.
Sprinkle Saltine crumbs over crabmeat, toss. Add crab mix and fold, be careful not to break the lumps.
Shape into 6, 5 1/2 oz cakes. Place cakes in the refrigerator at least 30 minutes prior to cooking.
Heat vegetable oil in a Teflon pan and brown crab cakes on both sides. Once golden-brown transfer to a baking sheet and bake to an internal temperature of 165 degrees F.
Ingredients
1 oz Cider Vinegar
1 oz White Wine
2 sprigs Thyme
2 Shallots, Chopped
1/2 lb Butter
1 Tbsp Creole Mustard
Directions
Place the vinegar, white wine, thyme and shallot in a small saucepan and reduce until almost dry.
Cut butter into cubes and rest at room temperature.
Add the heavy cream to the saucepan and reduce by 2/3. Remove from heat and add butter stirring to incorporate as the butter melts.
Place sauce in a warm area (approx. 130 degrees) to hold or service.