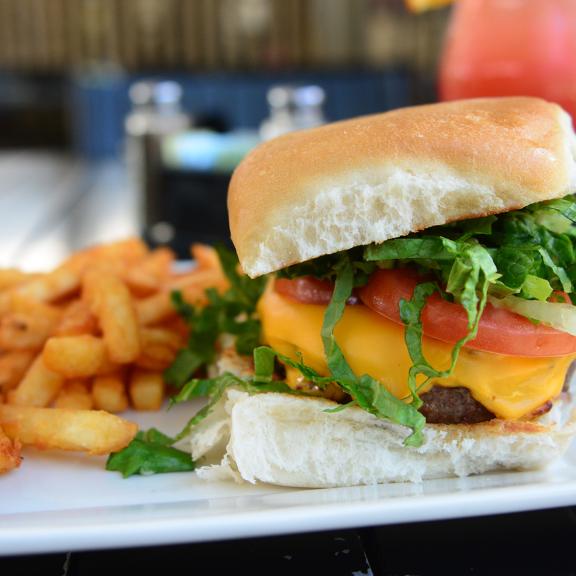 Post-Game Dining
Gulf Shores & Orange Beach
If you're looking for a sweet evening with your family, these restaurants will wine and dine you.
August 14, 2019
Celebrate with the family and enjoy an intimate dining experience after playing your heart out on the sports field. You may choose to dine and dance, or simply relax and spend quality time with your family all while indulging in coastal cuisine. 
Cosmo's Restaurant & Bar is well equipped to provide a quality atmosphere and memorable menu options. Enjoy music on the covered patio, order an appetizer from their sushi menu, or choose from hand-selected fresh seafood options. It's conveniently located just down the road from the Orange Beach Sportsplex, so you can stop by after your game. Just remember to bring an extra pair of shoes, as cleats are not allowed in the dining room.
Dine al fresco where blue skies and turquoise waters meet at The Gulf Restaurant in Orange Beach. Each seating area is unique, and the views of Alabama Point and passing boats are unparalleled. The building, constructed from blue shipping containers, is located on the south side of the beach road (Highway 182). Grab an iced beverage, and then head to one of two kitchens to order your meal. Listen to vinyl records played in full while you wait on your food, and let the kids play and relax on the beach that extends toward the sea wall.
On the opposite side of Perdido Pass is Cobalt, The Restaurant, which is also home to sweeping views of passing ships and the beautiful Alabama Point Bridge. Arrive by boat or car to enjoy a relaxing atmosphere indoors or outdoors. They often have live music, and there is plenty of room to put your dancing shoes to good use. Their dining area is expansive, and they can easily seat a larger party. Open for lunch and dinner, it's a seafood lover's dream.
Fisher's Dockside at Orange Beach Marina provides a noticeably casual atmosphere with upscale touches. Chef Bill Briand is known for his talents regionally and nationally, and he works with owner Johnny Fisher to provide wonderfully original menu options created from fresh, locally sourced ingredients. Dine dockside with glassy reflections of yachts in your periphery, then relax afterward among the fresh herbs growing in their grassy courtyard. Fisher's Dockside is an excellent addition to the growing restaurant scene in coastal Alabama. It's not just about sports. It's about family, too, so make time in your schedule for a sit-down dinner at one of these fabulous, family-friendly restaurants.