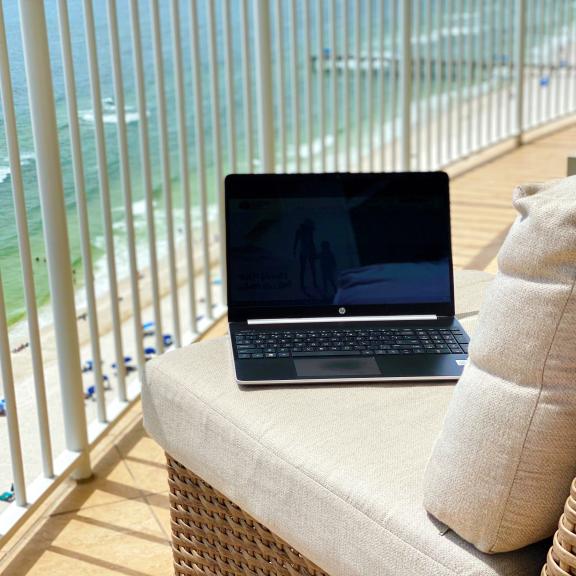 Work from Here
On Alabama's Beaches
Elevate your remote work or school location on Alabama's beaches. 
March 9, 2022
Are you working or learning from home? Consider bringing your office or classroom to Gulf Shores and Orange Beach. We have pristine beaches, tons of outdoor adventures, the happiest of hours and gorgeous accommodations that make for luxurious office spaces. Below are four reasons we think you should work from here.
Top 4 Reasons to Work from Gulf Shores & Orange Beach
2. 32 Miles of Pristine Coastline
Our 32 miles of sugar-white sand beaches offer an inspirational backdrop that makes getting work done much more pleasant. Open your windows or step onto your balcony and enjoy the feel of coastal breezes and the sounds of lapping waves. Not to mention, there's nothing like using an afternoon on the beach as motivation to check everything off your to-do list before the sun goes down. When you're finished with work, you can enjoy a remarkable Southern sunset over the water.
4. Fantastic Food and Coastal Cocktails
Sometimes, after a long day of working, cooking dinner doesn't sound very appealing. Here in Gulf Shores and Orange Beach, you'll find a countless number of restaurants and bars where you can enjoy a delicious dinner and curated drinks. Many of our dining options are waterfront and have open-air seating available, so you can revel in the beauty of the Gulf Coast while dine. Whether you're in the mood for freshly caught seafood, finger-licking barbecue, a local craft beer or irresistible desserts, you'll find it and more when dining on Alabama's beaches.
If you're ready for a change of scenery, pack those laptops and make Gulf Shores and Orange Beach your new work from here location. Start planning your trip today.