2020 Blue Angels Practice Schedule
Wednesday, Aug 05, 2020 -
Tuesday, Sep 22, 2020
All practices start at 11:30 a.m., unless otherwise noted.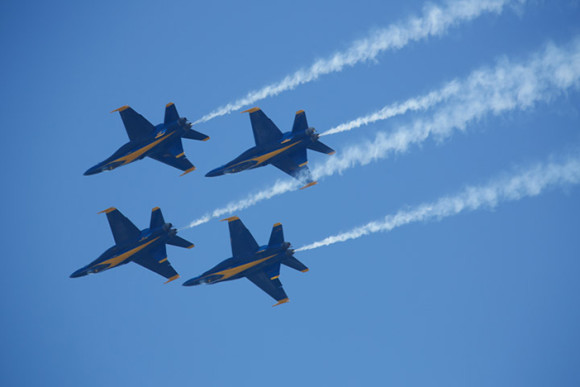 Admission:
Free Admission
The world-famous Blue Angels are based at NAS Pensacola and can be seen practicing over the Museum at NAS Pensacola select days throughout the year. Practice times vary so check the schedule below prior to planning your visit. Practices last about 55 minutes, and admission to is FREE and open to the public.*
The outside viewing area for the Blue Angels practice is located on the Museum Flight Line north of the Museum. Signs are posted to direct visitors to viewing and parking locations, including limited parking for handicapped visitors. Open bleacher seating is available for seating 1,000 people. Chair service is provided at each practice session, a limited quantity of chairs are available for a fee of $3 per chair good for that day's practice session. Concessions (bottled water, sport drinks, light food and treats) and merchandise are also available. Chair service, concessions and merchandise are provided by the Naval Aviation Museum Foundation and proceeds support the Museum and Foundation programs.
We recommend visitors use sun protection. Hearing protection is recommended for those people with sensitive hearing.
100% ID check for all visitors 16 years old and over to access the museum flight line to view Blue Angels practice.
Dates with a star (*) are autograph days at the National Naval Aviation Museum following the
practice.
AUGUST | 5* · 6 · 7 · 11 · 19* · 20 · 21 · 25
SEPTEMBER | 1 · 5 · 22
Please note that backpacks, daypacks, luggage, or similar items are NOT allowed on the flight line during Blue Angel practice air shows. Small purses, bags containing medications, and diaper bags are allowed but are subject to search by Naval Air Station Pensacola Security personnel.
Cancellations due to weather or maintenance are made at the team's discretion and may not be made until the morning of the practice.