Yumm Twister & Ice Cream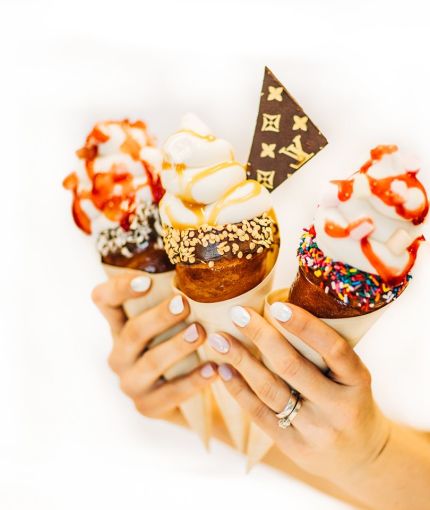 Our specialty is a handcrafted, uniquely shaped, freshly baked sweet & savory pastry with a variety of toppings and fillings. Urban casual grab & go food: quick, fresh, nutritious & affordable.
A Twister Cake, also known as Chimney Cake and traditionally called Kürtöskalács, is a famous dessert in Hungary and Romania. Twister Cake is freshly baked to order with a caramelized, crisp exterior and a light fluffy dough inside.
They are cylinder shaped with a hollow center, resembling a hot chimney when it comes fresh out the oven.
Once off the fire, the steaming hot Twister Cake is instantly rolled in toppings such as sugar, coconut shavings, Oreo crumbles, sprinkles or crushed walnuts.
It doesn't stop there! By spreading Nutella, sweet whipped cream cheese or peanut butter, the Twister Cake replaces the traditional dry wafer cone when filled with ice cream. We are filling our cones with delicious soft serve gelato in Dreamy Creamy Vanilla or Belgian Chocolate flavors. A delicious combination of toppings and filling in a one of a kind handcrafted Sugar Glazed Cone.
We are also offering Savory Twister Cakes. Come & try!
They are not only delicious, but also amazingly fun to eat!
Other Amenities:
Deli sandwich
Ice cream and sweets
Outside dining