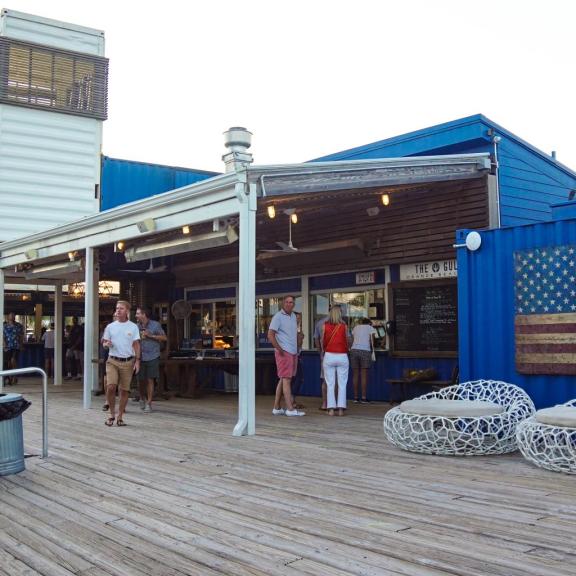 On-the-Go Dining
Gulf Shores & Orange Beach
Need a quick meal? Our on-the-go dining resource is just for you.
November 9, 2022
You're sitting at your event for what seems like hours. Suddenly your stomach growls so loudly that you can no longer ignore the situation, and you definitely don't feel like cooking after a long day. If this sounds familiar, don't worry, we have your back.
Many of our restaurant sponsors offer on-the-go dining, making it possible for you to call, place an order, walk up to the door, grab your food and go – and some will even bring it out to you. How awesome is this? Not only do you get amazing food fast, but you have a wonderful variety of food styles to choose from.
3. Moe's Original BBQ
Moe's Original BBQ will have you drooling over their sweet BBQ sandwiches. Choose pulled pork or chicken, but don't forget to ask for their secret sauce. Yum! Moe's also offers great catering packages that include all the fixings, napkins, and utensils for any event.
4. Alabama Coastal Caterings
Looking to provide a meal for your entire group? Be sure to check out Alabama Coastal Catering! Every day the Catering Chefs prepare high-quality food and creative menus for off-site locations all along the Gulf Coast. Guests enjoy the selection of cutting-edge menus inspired by local staples and chef-inspired ingredients for breakfast, lunch or dinner!
7. Rotolo's Pizzeria
Rotolo's Pizzeria offers everything from pizza for the team to wings and sandwiches for the adults. Prices are group-friendly, and they even offer catering options for your event.
8. The Beach Moms Concierge Service
Have the food brought straight to you with Beach Moms! Their concierge service specializes in all things that make your trip to the beach even easier. Including grocery shopping and delivery or personal chef options for your group!
No matter what type of food you are in the mood for, finding a dining option to fit you, your team and your event is a simple matter. Let's eat!