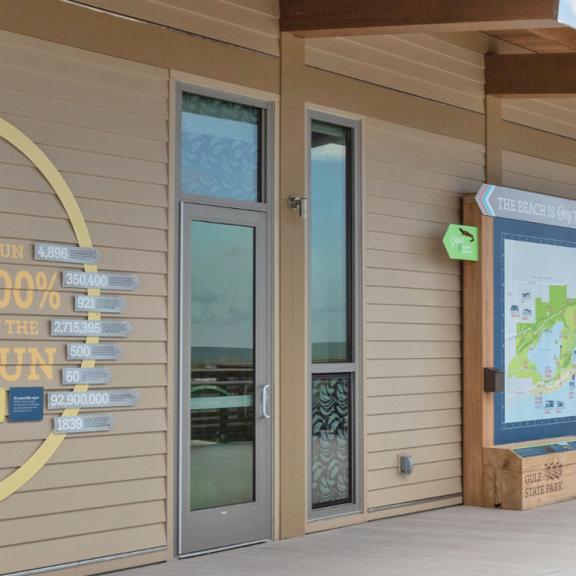 11 Fun New Places to Visit Since Your Last Beach Vacation
If Alabama's Gulf Coast is "your beach," then by all means, you'll want to know what's new since your 2018 visit.
July 27, 2020
New Restaurants and Accommodations in Gulf Shores & Orange Beach:
The Lodge at Gulf State Park
The long-awaited opening of The Lodge at Gulf State Park happened Nov. 1, 2018 replacing the beloved original property which was damaged by Hurricane Ivan in 2004. Now a Hilton Hotel property, the all-new accommodation option is the near-perfect model of an environmentally-friendly coastal development where lodging flows right in sync with the beautiful outdoors. Enjoy one of 350 non-smoking rooms and more than 40,000 square feet of combined indoor and outdoor meeting space.
The Lodge offers a unique experience with outdoor terraces for relaxing, fire pits and multiple boardwalks with direct access to the beach. Additionally, The Lodge features new restaurant choices for visitors: Perch, a high-quality, local seafood and regional farm products restaurant in an upscale atmosphere with views of the Gulf; Foodcraft, a more casual, family-friendly dining experience with tacos, sandwiches and fun treats like chicken and waffles; and Roasted Oak, a coffee shop by day and a wine bar by night.
Woodside Restaurant at Gulf State Park
Enjoy the newest restaurant at Gulf State Park, Woodside, where Southern cuisine and cocktails are made from the finest and freshest locally sourced ingredients. Choose dining in the main dining room, the screened-in porch or under the stars for an experience you won't soon forget.
Kilwins at The Wharf
New to The Wharf is Kilwins, a fun candy store offering high-quality products with a hefty dose of Southern hospitality. Get your Mackinac Island-style fudge here as well as great confections.
The Good Berry
Tasty acai bowls, smoothies and other healthy meal options are what folks will find at The Good Berry in Gulf Shores.
Doc's Seafood Shack and Oyster Bar
Eat where the locals eat! Doc's Seafood Shack and Oyster Bar offers great gumbo and famous fried shrimp in a casual atmosphere. Doc's has recently opened a new location on Perdido Beach Blvd in Orange Beach to better serve even more of their customers.
Orange Beach Concierge Launching Chef's Table Dinners in May
Look for the Chef's Table at Orange Beach Concierge for a fun experience where guests may dine in the heart of a private space with a talented culinary team. Enjoy a chef-driven, personally-curated, multi-course tasting menu with the option of wine pairing. Reserve seats for your party (up to 28 guests) for this new experience.
The Yard Milkshake Bar
The Yard Milkshake Bar has the delicious specialty shakes, hand-dipped cones, edible cookie dough and more including a new, bigger location at Pelican Place in Gulf Shores. The new location is just a few storefronts away from the previous one, but offers more indoor seating.
New Beach Attractions for 2019 Vacations:
Gulf State Park Interpretive Center
Designed to be a great place for learning about the environment and natural resources in Gulf State Park, the Interpretive Center has much to offer to the visitor looking to be eco-friendly and educated in this coastal classroom. The Interpretive Center is adjacent to the Gulf State Park Beach Pavilion and located at the east pedestrian bridge.
BeachFlight Aviation's Gyrocopter
Check out Alabama's beaches from high above with BeachFlight Aviation's gyroplanes and new gyrocopters. With the help of a FAA-Certified flight instructor, you'll have the unique opportunity to fly the aircraft in a two-mile loop along Gulf Shores beaches. If you are looking for a different experience this year at the beach, this is it!
Newbies at the Alabama Gulf Coast Zoo
The Alabama Gulf Coast Zoo offers a great opportunity to gain up-close-and-personal encounters with interesting animals like sloths, kangaroos and lemurs. With more than 500 animals, the Zoo provides something for everyone in your party. Don't miss the new baby lions if you go.
More Ways to Get To The Alabama Gulf Coast
Silver Airways Offering Daily Nonstop Service
To better accommodate visitors headed to the country's best beaches, Silver Airways now offers daily nonstop service between the Florida/Alabama Gulf Coast and South Florida. Silver Airways now has daily service between Fort Lauderdale-Hollywood International Airport and Pensacola International Airport which is only a short drive from the Gulf Shores area.
For more vacation tips and information, download the 2019 Vacation Guide today and start planning your next beach vacation!