The Perfect Mother's Day Gift: A Beach Getaway
May 2, 2013
Sun, sand, shopping, spa…there are lots of words we can associate with a great Mother's Day weekend in Gulf Shores & Orange Beach. Why not treat Mom to a beach getaway filled with pampering and relaxation for her special weekend? You know she deserves
it! The key to a successfully planned Mother's Day beach getaway is to take care of all the details for Mom. Leave nothing to chance. Make a list of things for you to do and a list of things for Mom to do. Mom's to do list should look something like this:
Be on time for a massage at the spa
Read your favorite book by the pool
Put your toes in the sand on the beach
Shop at The Wharf or do some outlet shopping at Tanger Outlets
Enjoy a cocktail at dinner
Take a dolphin cruise
Soar above the Gulf State Park on the Hummingbird Zipline
Hug your family
You may want to print Mom's list out so she doesn't forget anything! Your to-do list really isn't too complicated either.
Browse the Hot Deals for Mother's Day weekend vacation rentals
Arrange spa treatments and dolphin cruise
Pack the beach supplies
Enjoy the weekend with the special Mom in your life
Make this Mother's Day a weekend to remember in Gulf Shores & Orange Beach. See you soon! [caption id="attachment_846" align="aligncenter" width="300"]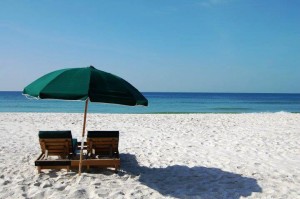 Pamper Mom with a beach getaway this Mother's Day weekend.[/caption]