The Where's and How's of the Spring Bird Banding
March 26, 2014
[caption id="attachment_3276" align="alignright" width="300"]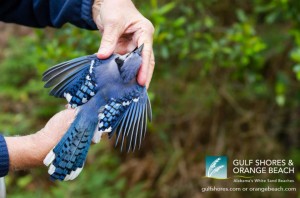 The spring bird banding will take place at Historic Fort Morgan April 5 to 13, 2014.[/caption]
Calling all bird lovers! The 2014 Spring Bird Banding will be held at Historic Fort Morgan
April 5 to 13. Fort Morgan has been designated one of the 100 Globally Important Bird Areas by the American Bird Conservancy and is also on the annual migration route for Monarch Butterflies. The Alabama Gulf Coast is a critical stopover point as migratory birds return from Central and South America.
The bird banding station at Fort Morgan opens before dawn each day and operations usually stop between 3 and 5 p.m., depending on the flow of birds. More than 370 species of birds have been identified along the Alabama Gulf Coast during migratory season. Seven species of hummingbirds have also been identified. The bird banding session at Fort Morgan is an opportunity to monitor population levels and the condition of migrant birds.
The Alabama Coastal Birding Trail includes five sites at Fort Morgan. They can be found on the Fort map and include:
• Stables: the best spot for passerine migrants. The Hummer/Bird Study Group maintains its banding station in the Stables area each April and October and welcomes visitors.
• Middle Ground: the brush and scrub opposite the landing, excellent for open-country birds.
• The Fort: from the ferry landing parking lot, continue west to the Fort parking lot. The thick vegetation may house a variety of migrants.
• Ferry landing: check the adjacent lawn and live oaks just west of the parking lot for migrants.
• The Marsh: marsh and field area south of the Fort can be observed from the sea wall on the south side – it is an excellent spot to see gulls and terns.
While admission to the fort is charged, the banding session is free. Admission to the site includes parking and includes access to the fort, museum, pier, beach and picnic areas.
Tips for a great bird-watching experience: bring a lawn chair and binoculars, but leave the pets at home.