'The Greatest Show in Sports Fishing' Cruises on July 9, 2014
July 2, 2014
[caption id="attachment_3567" align="alignright" width="300"]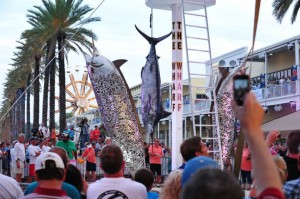 A weigh in from the 2013 Blue Marlin Grand Championship of the Gulf.[/caption]
High-energy, action-packed and big-prize money are just a few of the ways to describe the 2014 Blue Marlin
Grand Championship of the Gulf. This year's event sets sail July 9 and continues through July 13 with action packed into each fun day of Orange Beach fishing.
Parties like the Exclusive VIP Team Owner's Reception Party and Crew Fest promise a fun time. Capping the event is the Triple Crown Challenge Fighting Chair Competition. The contest begins with the Leader of the Pack Bimini Start that will have teams fighting to claim the title of fastest sports fisherman in the Gulf. Helicopter crews will cover the event and show the video on two Jumbo Tron screens at the marina. Winner of the Bimini Start will get a one-of-a-kind original painting of his vessel from artist Larry Rackley.
Activities also include the One and Only Miss Billfish Contest, as well as video coverage of each day's weigh-ins. New this year is the auctioning of the 56th entry spot to the tourney with all of the money raised going to St. Jude's Children's Hospital.
More than $1 million in prize money was awarded during the 2013 tournament and an even bigger purse is expected this year. Feel like a rock star as you weigh in your fish to the cheering crowd of spectators. Add to that the fun of the location at The Wharf in Orange Beach with numerous options for dining and entertainment and you've got a tournament that's sure to be fun and exciting.