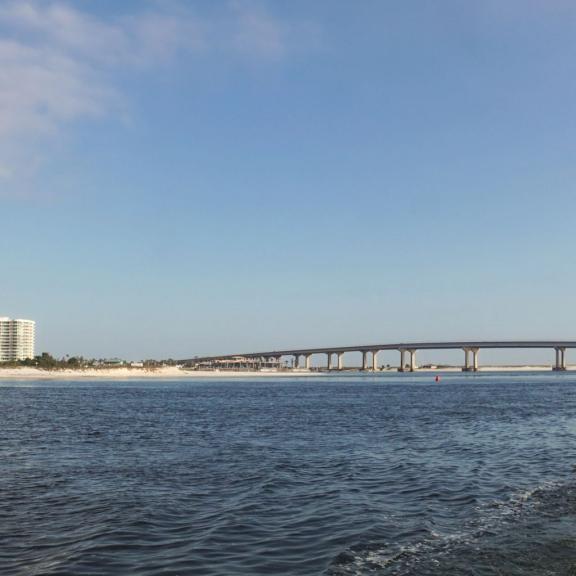 Off-Shores Boating Tips
Gulf Shores & Orange Beach
August 30, 2023
Boating is a rite of passage on the Alabama Gulf Coast, and we want everyone to try out their sea legs. Whether you've been boating for years or are just getting your feet wet, our diverse blend of bays, inlets, and gorgeous Gulf waters offer a variety of new routes to explore as you soak up some fun in the sun. Just like our beautiful beaches, you need to share the space and play responsibly if you want to enjoy a blissful day of boating. 
2. Don't Overlook Life Jackets
By law, all boats must carry a U.S. Coast Guard-approved life vest for every person on board. Passengers under the age of eight must always wear a life jacket, but it's best for everyone onboard to wear them when operating on the water. They can't save your life if they're stowed under the seat!
Your life vests should be readily accessible in an emergency (so no placing them in a locked container or underneath your other gear). You should also be sure that your life vests are in good condition and the proper fit for each intended wearer. They should be comfortably snug but not so tight as to impede natural movement. Life jacket sizes are based on chest size and body weight, so be sure to follow the manufacturer's recommendations.
5. Don't Pack on Passengers
Boats can carry a lot of weight, but it's not wise to pile on every person you know. Boats are designed to perform under a specific weight distribution, and overloading a vessel with groups and gear increases the risk of capsizing, even in calm waters. Most boats have a capacity plate affixed to the hull that displays the maximum load limit and number of passengers, so be sure to find and follow it. 
6. Don't Boat and Booze
A cold beer is a refreshing treat when temperatures rise, but boating and boozing are not a good mix. In fact, it's illegal to operate a boat while under the influence of alcohol, and even first-time offenders can face steep penalties. Just like on a land-based outing, decide on a designated driver and commit to leaving your drinking at the dock.