New Ways to Beat the Heat and Catch a Breeze
August 29, 2014
[caption id="attachment_3710" align="alignright" width="255"]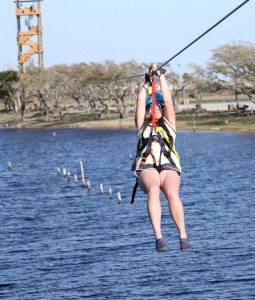 The Hummingbird Zipline is one way to catch a breeze during your Gulf Shores and Orange Beach vacation. [/caption]Cool, frosty drinks are just one way to beat the heat at the beach
this time of year. Before you head inside to get the blender going, try these other ideas for a splash of cool.
Put the wind at your back with a kayaking adventure or a boat ride on an Orange Beach charter fishing trip. Sunset dolphin cruises are a fun way to cool off with a relaxing breeze at your back, as well. Check our website for more things to do on the water during your Gulf Shores and Orange Beach vacation.
The Hummingbird Zipline at the Gulf Adventure Center is a great way to get above the heat and in the middle of a cool, Gulf breeze. Get a bird's eye view of the coastline while you feel the gentle winds ruffle your hair. It's a fun way to spend a day.
Don't underestimate the power of a good shopping trip inside air-conditioned stores to take the heat out of your day. The Alabama Gulf Coast is home to a wide variety of boutiques, factory outlet stores and big-box stores that are the perfect remedy for that shop-till-you-drop itch.
Several Orange Beach condos feature lazy rivers and most Gulf Shores beach houses and hotels boast pools that are just the antidote to hot days on the beach. Peruse our directory for the amenities that appeal to your needs.
Perhaps the best way to cool off during your visit is to swim the turquoise waters of the Gulf of Mexico and get refreshed by the temperate waters of the Alabama Gulf Coast.