The In's and Out's of Catching Jack Crevalle
Part of the What's Biting Series
September 5, 2014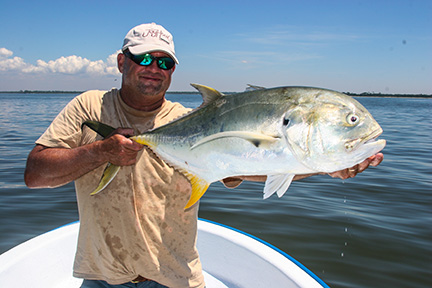 Despite our best efforts, there are times when a change of plans is required during a day on the water. The target species of speckled trout, redfish, flounder, or other inshore fish may be hard to find or just aren't biting.
If that happens, it's time to adjust and find something that will bite. That could come in the form of ladyfish, sometimes called the poor man's tarpon because it provides the acrobatics of a tarpon in a miniature size.
At other times, you take what the inshore waters present. To borrow a term from the military, it's good to maintain situational awareness when you're out on the Gulf Coast waters. Watch for any kind of creature activity, like birds diving for bait or shrimp jumping out the water, a sure sign that some predator is chasing the tasty treats.
Of course, the big clue is when a school of fish started blasting through the baitfish near the surface.
During a trip a while back, Jay Gunn of J Hook Inshore (251-752-8040) had enjoyed a speckled trout bite at daylight that ended all too abruptly, forcing us to look around for another species to "stretch our string."
After going on a boat ride looking for tripletails (blackfish) around the channel markers, buoys, and crab floats, our luck hadn't turned for the better.
Out of the blue, an opportunity presented itself. Not 50 yards away, the surface of the water turned into a froth with a school of jack crevalle rampaging through a school of menhaden (pogies).
As one of the most experienced anglers on the Alabama Coast, Gunn is prepared when bigger tackle is needed. The heavier spinning rod and reel were loaded with 20-pound test line just in case.
Gunn quickly hooked a pogey through the lips and sailed it into the midst of the schooling fish. No sooner than the bait had hit the water, a jack grabbed it and hit the accelerator.
With jacks, it's important to have a good drag system, because the initial run will be significant. It's a hang on and wait until the drag starts to work on the fish. Then take back line when the fish allows. There will probably be a few shorter runs. Jacks don't give up easily.
When you finally get him beside the boat, grab him just ahead of the tail and swing him into the boat.
While jack crevalle is on the menu in places like the Caribbean and South America, there are way too many other species that are better table fare along the Gulf Coast.
Jacks are a blast to catch. But it's best to unhook the fish, take a picture, and release it back into the brackish water to fight another day.