Sneak Away for Holiday R&R in Gulf Shores, Orange Beach
November 25, 2014
[caption id="attachment_3886" align="alignright" width="300"]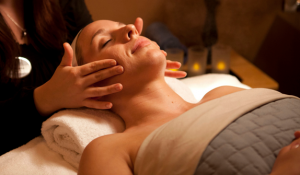 The Beach Club offers one of many spas in Gulf Shores and Orange Beach. For more spas, visit our directory.[/caption]
Give yourself the best gift of all – a holiday R&R getaway complete
with spa treatments, dinners out and time that doesn't include cooking, holiday cleaning or decorating. Decide to do away with a weekend of holiday madness and instead make it a weekend of holiday happiness.
Start by booking your Orange Beach hotel, Gulf Shores condo or beach house in a place where nature's beauty is just a sand's throw away from a cup of coffee on the balcony. Listening to the waves may be all the holiday music you need to hear on your beach escape for R&R. There are exceptional lodging specials this time of year. Restaurant gift cards and free days are just some of the perks available when booking your holiday retreat. Tickets to the Coastal Christmas with Aaron Neville concert on Dec. 3 at The Wharf in Orange Beach are even available with some holiday lodging packages. Wrap up your lodging deal online.
For a true R&R experience, book accommodations that come complete with a spa package. Some packages include massages, manicures, pedicures and shampoo and blow dry.
Next, enjoy lunch at one of the many great restaurants that fill the Gulf Coast with delectable fare. Whether you want casual or sophisticated, you'll find everything from seafood to steak to sushi. You can find it all here on Eat Your Way Around the Beach.
After a relaxing lunch, head over to one of the Alabama Gulf Coasts' championship golf courses to hit a few balls or bag some bargains at one of the shopping centers in Gulf Shores, Orange Beach or nearby Foley.
Options abound when you come for a weekend of rest and relaxation during the holiday season. There are museums, nightlife and there's usually a festival or event somewhere nearby. Check our calendar for all of the up-to-the-minute details.