Top 3 Tools to Use to Plan Your Beach Vacation
February 19, 2015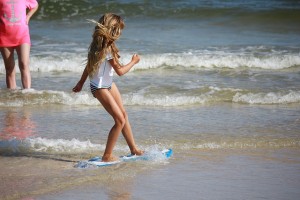 Sun's up and the surf's good! It's time to start planning your next beach getaway to Gulf Shores and Orange Beach. Imagine sitting on the beach, your toes in the sugar-white sand, the warm sun on your back and the clear-blue waters of the Gulf of Mexico
sparkling in front of you. Now, start planning and make that dream a reality. Here are three great tools to use for planning your next vacation. Use one or all of them to take your family's beach getaway from daydream to reality.
Website
Eat, Stay, Plan and Play are just some of the resources available at gulfshores.com where you'll find a mountain of great information to plan your beach vacation. Click the Deals tab to see the latest specials on Gulf Shores and Orange Beach condos, hotels and beach houses. You can often score a free night with a stay or vacation add-ons like dolphin cruises and restaurant gift cards. Take the money you save from your vacation rental deal and plan some activities that will put this vacation in the memory books. Parasailing, dolphin/sunset cruises, kayak adventures, fishing trips and souvenir shopping are just a few of the fun activities you can enjoy and that you'll find information for on our website. Like to hike? Find more about what you can do during your beach vacation on the Play page.
Experience the food of the Alabama Gulf Coast in a variety of delicious ways. From seafood restaurants to fine cuisine, Gulf Shores and Orange Beach offers everything from hamburgers to oysters and a lot in between. Eat Your Way Around the Beach, gives great tips to diners on where to find what you're hungry for, offering itineraries for breakfast, oysters, omelets and so much more. The selection of restaurants on the Eat page proves you can have your shrimp and your cheeseburger, too!
Will you cook while you're here? Many visitors enjoy eating some meals in their beach condo. Our site has great seafood recipes to fix for a few or fix for a crowd. Sample Beachin' Shrimp, Floyd Family Beachy Spaghetti and Pineapple BBQ Meatloaf. Put all hands to work to create not just meals, but memories of good times spent together.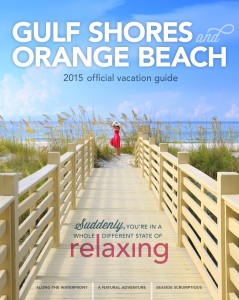 Vacation Guide
Want to peruse our Vacation Guide? You can order it online and have it delivered to your house or get an interactive copy to browse through on your computer. Either way, you can page through vistas that call you to pick up your phone or move your mouse to start those vacation plans. The annual guide is packed full of ideas for adventures, including Orange Beach charter fishing, championship golf, shopping and more. You'll also find information on lodging, dining and general area information on the Alabama Gulf Coast.
Apps
Apps too good to pass up include the Scenic Byway app and the BackCountry Trails app. For all apps, visit our website.