Food Network Celebs Top Line-Up at Oyster Cook Off
September 8, 2015
Succulent oysters, craft beers, moonshine and celebrity chefs combine in one fun package for the 8th Annual Oyster Cook-Off and Craft Beer Weekend at The Hangout in Gulf Shores, to be held Nov. 6 to 8. Well-known Gulf Coast restaurateurs and celebrity chefs alike will compete in this event.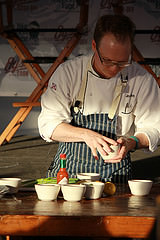 The fun begins Nov. 6 with a craft beer festival featuring more than 60 beers from breweries such as Railyard Brewing, Good People, Straight To Ale, Abita, New Belgium, Lagunitas, Goose Island and Oskar Blues. This adults-only event gives attendees the opportunity to meet beer brewers and chefs while enjoying beer samplings and live music.
Saturday's cook-off features chefs from all over the Southeast, including Food Network stars Martie Duncan, Ann Burrell, Ippy Aiona and Michele Ragussis, and James Beard Best Chef South Award winners Alon Shaya (2015) and Ryan Prewitt (2015). Chefs and restaurants will compete for $20,000 in prizes for the best dishes in categories that include Rockefeller, Cajun and create-your-own raw oyster dish.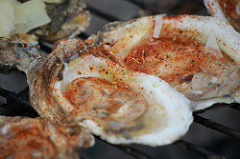 An oyster-shucking competition, cooking demos, live music and oyster sampling are just some of the fun activities planned during the weekend. Another highlight is the crowning of the continent's best oyster by the North American Oyster Championship. On Saturday, football lovers won't have to miss a single play in the sports viewing lounges. And there will be a Bloody Mary Invitational on Sunday, Nov. 8.
Admission to the festival is $10, and tickets may also be purchased to sample the delicious creations. Admission to the Friday Craft Beer Festival is $40 and will include the craft beer tasting, wine, moonshine and champagne.