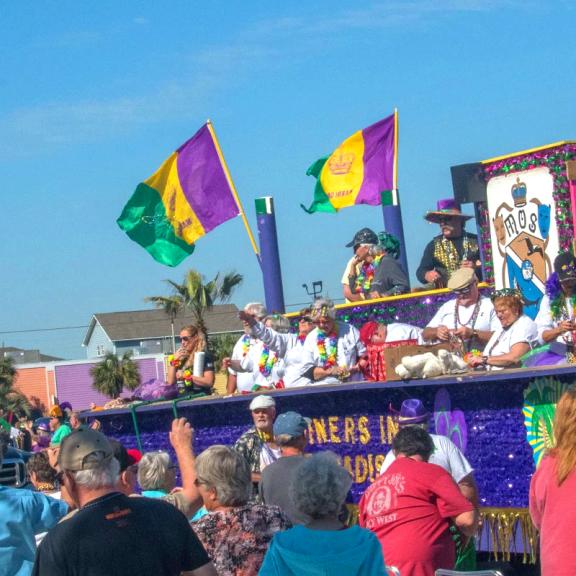 Get Ready to Roll - Its Mardi Gras!
Throw Me Somethin' Mister!
September 9, 2022
In February, Gulf Shores and Orange Beach will come alive with revelry as locals and visitors alike come together to celebrate Mardi Gras. Parades will roll through the streets all along the Gulf Coast. If you're wondering what to expect, you'll find a family-friendly Carnival season on Alabama's beaches. The young and young-at-heart gather together for moon pies, beads a good time!
The parades will be aplenty, including several in Gulf Shores and Orange Beach, as well as nearby Foley, Fairhope and Daphne. In fact, there's even an annual Mardi Gras boat parade in Gulf Shores! If you are new to the experience, we have a few tips to help you enjoy Carnival to the fullest.
Leave Fido and FeeFee at home. We love pets, too, but it's best to leave them at home. Parade crowds may frighten them.
Come early, bring a lawn chair and visit with your parade-route neighbor. Mardi Gras is about the entire experience! Pack a thermos of hot chocolate. It'll pair perfectly with a banana moon pie.
Be patient. Mardi Gras is only here for a short time! Enjoy the moment and don't rush to leave the parade route.
Be careful near the floats and respect the barriers between the floats and the crowd.
Dress in costume! Mardi Gras is a time to let the good times roll. The official colors of the season are green, purple and gold, so find fun hats and crazy wigs in these colors to get in the spirit.
Be prepared to catch your beads and moonpies. Bring several bags along to hold your parade throws.
Have a meeting place in case you get separated from your group. Make plans to stop by your favorite beach restaurant following the parade. Nothing tops off a good parade quite like a shrimp po'boy!
Mardi Gras is held during the winter season, which means there's plenty of great deals and specials offers on condos, beach houses and hotels. Browse our Special Offers for details.