What's Biting: Benefits of wind on leaders
August 16, 2018
Several years ago, I made a pretty major change to my trolling set-up. I went from traditional leaders to wind on leaders. A traditional set up is a long leader attached to the main line with a swivel that is connected to the lure or bait. When the angler got the swivel to the rod tip, the fish were still twenty to thirty feet away from the boat and would need to be 'wired' boat side. That name comes from the old days when leaders were made of wire, such as piano wire.
[caption id="attachment_5960" align="alignright" width="300"]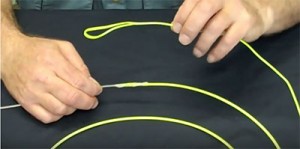 Using a wind on leader allows you to do just what the name implies.[/caption]
Using a wind on leader allows you to do just what the name implies. Wind the leader on the reel as opposed to having a wireman bring in the leader by hand. The leader is attached to the mainline with a loop to loop connection. Since I primarily fish from a small boat with a small crew, using a wind on leader eliminated the need for someone to 'wire' the fish. It also gives the angler more control of the fish as they can reel it all the way up to the boat except for about the last five feet. The wind on is usually attached to a leader of about five feet in length to the lure.
I bought the first few I used, but then decided I wanted to learn to make my own, because I like rigging all of my tackle. I like the process of doing it and learning new tackle rigging skills. I also like trusting myself for all my terminal tackle connections. When we catch a fish, I feel extra satisfaction knowing that I selected the lure, rigged it correctly and caught it on a rod and reel using a wind on leader that I built. Plus, it's cheaper to make them yourself.
To make your own, you'll need to purchase a few things. You'll need a kit with rigging needles, your choice of braided line, monofilament or fluorocarbon, and some rigging floss. Visit one of our local tackle stores, and they can make sure you have everything you need. After this initial investment, the cost of making your own is much less expensive than purchasing pre-made wind on leaders.
Making your own also allows you to have different size leaders on hand and ready to go at a moment's notice. With the loop-to-loop connection, switching out leaders is a quick process. Sometimes, tuna especially are leader-shy and dropping down to a smaller leader can be the difference between catching fish and coming home with an empty box.
This video is a great step-by-step resource for constructing wind on leaders. By using this method, I have yet to have one of my wind ons fail me, and they have been tested by tournament winning blue marlin, white marlin, mahi-mahi, tuna and most recently one huge wahoo!