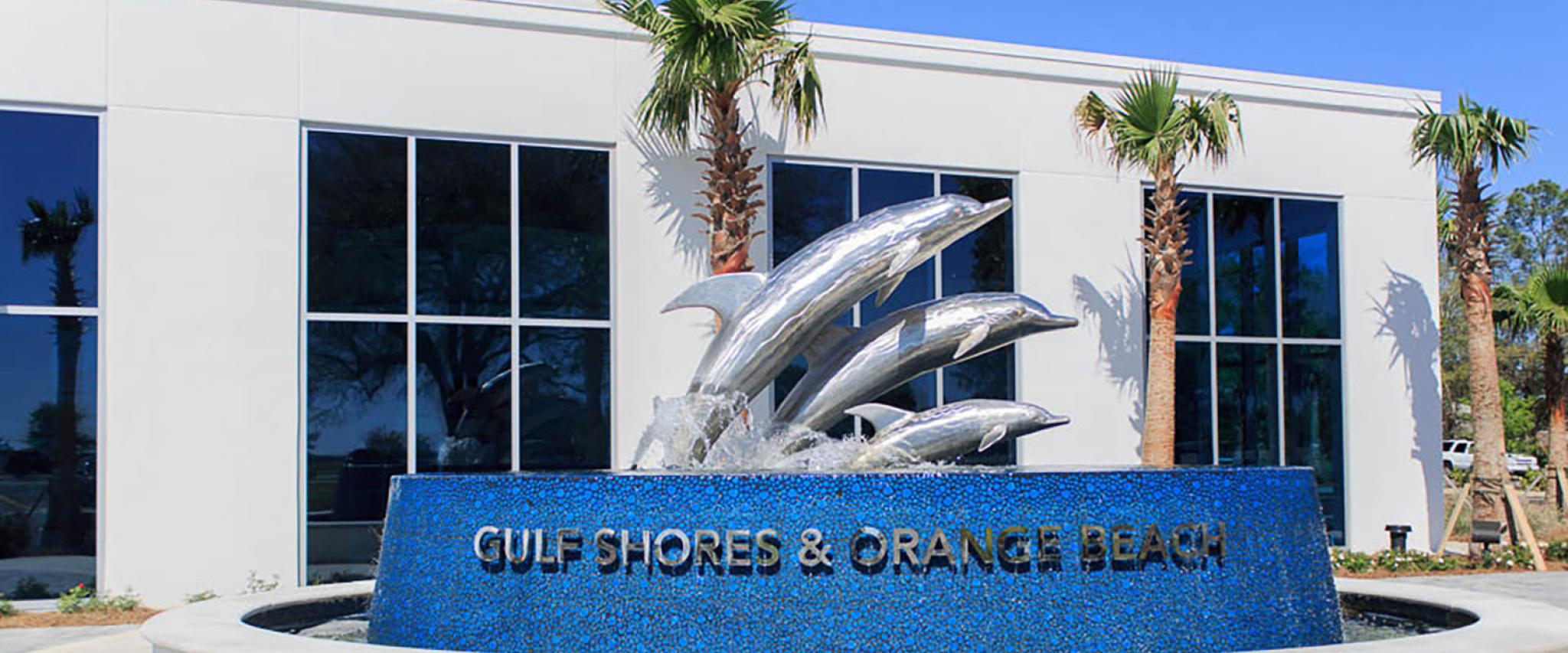 Why You Should Check Out the Gulf Shores Welcome Center
There's a new location for gathering information for your beach vacation when you arrive on Pleasure Island via the Highway 59 corridor.
April 13, 2016
When heading south, located just before the Intracoastal Waterway bridge is the new Gulf Shores Welcome Center at 3459 Gulf Shores Parkway.
After breaking ground in October 2014, the new hospitality center opened its doors in April. Visitors are greeted by a highly visible digital sign near the highway, as well as the iconic dolphin fountain where the young and young-at-heart can make a wish for a beach vacation made in paradise. You'll find that the 5,400 square feet of handicapped-accessible space includes a spacious lobby, conference room and public restrooms. It's the perfect location to stop and stretch your legs.
Gather vacation inspiration and browse brochures for Gulf Shores and Orange Beach restaurants, attractions and activities. Video displays will introduce visitors to what awaits them during their vacation, from dining to attractions and relaxing on the beach. While the building is new, you'll still be greeted by the familiar faces and knowledgeable staff you've gotten to know over the years during your annual vacations on Alabama's beaches.
Be sure to plan a stop at the Gulf Shores Welcome Center on your drive to the beach. It's packed with smiling faces, friendly assistance and an abundance of information to make your vacation one for the memory books.
 If you're traveling through the Beach Express and arriving in Orange Beach, plan a stop at the Orange Beach Welcome Center at 23685 Perdido Beach Boulevard, approximately four miles east of the Highway 59 and 182 intersection.
Both welcome centers are open seven days a week from 8 a.m. to 5 p.m. During the summer season (mid-May through mid-August), the center hours are extended to 6 p.m. on weekdays, and weekend hours become 9 a.m. to 6 p.m. The welcome centers are closed on Thanksgiving, Christmas Eve and Christmas Day.