What's Biting: Beasts from the East
August 16, 2018
You never know exactly when it will happen. Some years it starts in March, but most years it's sometime in April. Whenever the annual migration of Cobia along our coastline occurs, it sets off a fishing and fact finding frenzy. Facebook, phone calls and texts all asking the same question? "Did you see any today?"
Spring-time Cobia fishing is as much about seeing the fish as it is about catching them. If no one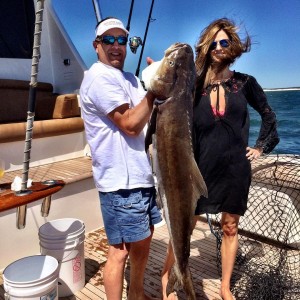 is seeing any of the brown bombers moving from east to west then nobody is catching them either. Cobia fishing along our beaches is more akin to deer and turkey hunting than traditional offshore fishing.
As these fish make their yearly swim from South Florida toward Mississippi and Louisiana, they cruise along just below the surface giving anglers the rare chance at sight fishing in the Gulf of Mexico. "The thrill of seeing a fish, or a group of fish is only topped by making a great cast and catching one," said Chris Vecsey of Sam's Bait and Tackle in Orange Beach.
Long hours of boat riding along the beach while seeing nothing but condos and beachgoers can change in an instant when a Cobia suddenly appears in front of the boat. "No matter what kind of fishing you do, of course, you have to find the fish. And most of the time you don't see the fish. It's only when you start getting bites and catching fish do you realize you have located the fish you are after. When hunting for Cobia, you are relying on your eyes along with everyone else on the boat to see and catch the fish."
Once a fish or multiple fish have been spotted, the result is usually some form of organized chaos. The person with the rod in their hand, already rigged bait, absolutely can not take their eyes off the fish. Never losing sight of the fish allows a perfect cast to be made in front of the cruising fish. If the cast lands behind the fish, it must be quickly reeled in for another chance to cast, again all while never losing sight of the traveling fish.
By the time the Cobia reach our waters, they can become a little leery after being peppered with casts all along their journey up the Florida coast. If they aren't spooked by the cast, they can be very curious critters. They will investigate and hopefully eat almost anything presented to them.  Live eels, shrimp, crabs, pinfish, a jig and even small catfish are all known to entice a strike.
It has been a fairly slow spring for Cobia thus far on the Alabama coast, but reports have begun to pick up over the past few days according to Vecsey. "The fish have been a little late arriving, and we have had some very windy, rainy days which always makes for challenging conditions. The weather has been in a better pattern for the last several days, and more fish are being caught. Reports have been picking up dramatically from places like Destin and Pensacola, which is a sure sign that the fish on their way."
Having a tower on your boat certainly helps to be able to spot the fish but for those of us without a tower, Vescey says there are other options. "Anchoring up at any of the nearshore wrecks and chumming will bring fish to your boat." Cobia may naturally be on the structure, or they may divert their path along the beach once they pick up the scent of the chum slick behind your boat.
However you fish for them, be on the lookout and ready to make that perfect cast!