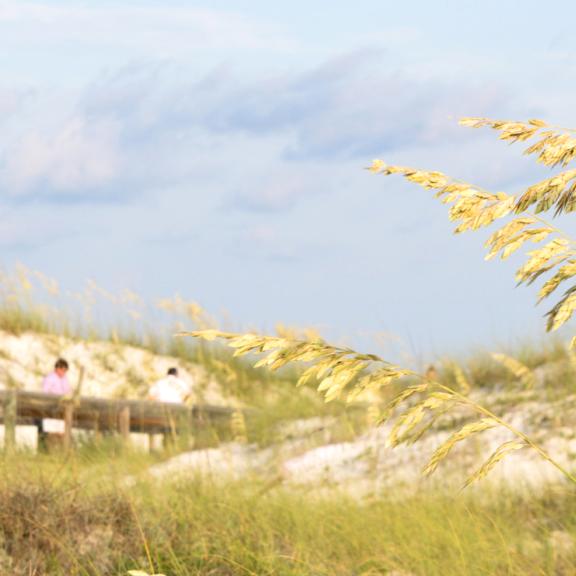 Importance of Sea Oats
in Gulf Shores & Orange Beach
Sea oats swaying in the Gulf air is a familiar sight to Gulf Shores and Orange Beach vacationers every year.
August 19, 2022
Do you know what purpose these picturesque plants serve on Alabama's 32 miles of white-sand beaches?
More than just a backdrop for family photos, the roots of sea oats and other beach vegetation help hold together the fragile dune system you see during your walks along the beach. Sea oats help keep dunes in place and sand from blowing away, protecting mainland areas. The plants trap sand around their roots, stabilizing the dunes and promoting new dune formation. They also provide shelter for endangered species such as the Alabama beach mouse.
While it's tempting to pose for photos in the dunes area with sea oats, it's prohibited by law in the cities of Gulf Shores and Orange Beach. Consider alternatives for family photo backdrops like a sunset or a beach boardwalk. Weathered wood against a vibrant sky can offer a breathtaking contrast for photos.
Digging, removing and disturbing sea oats is prohibited. The plants are a vital part of Alabama's clean coastal ecosystem, so visitors are asked to avoid walking on the dune areas and sea oats at all times. Please do admire this beautiful vegetation from boardwalks and the shoreline during your next beach vacation.