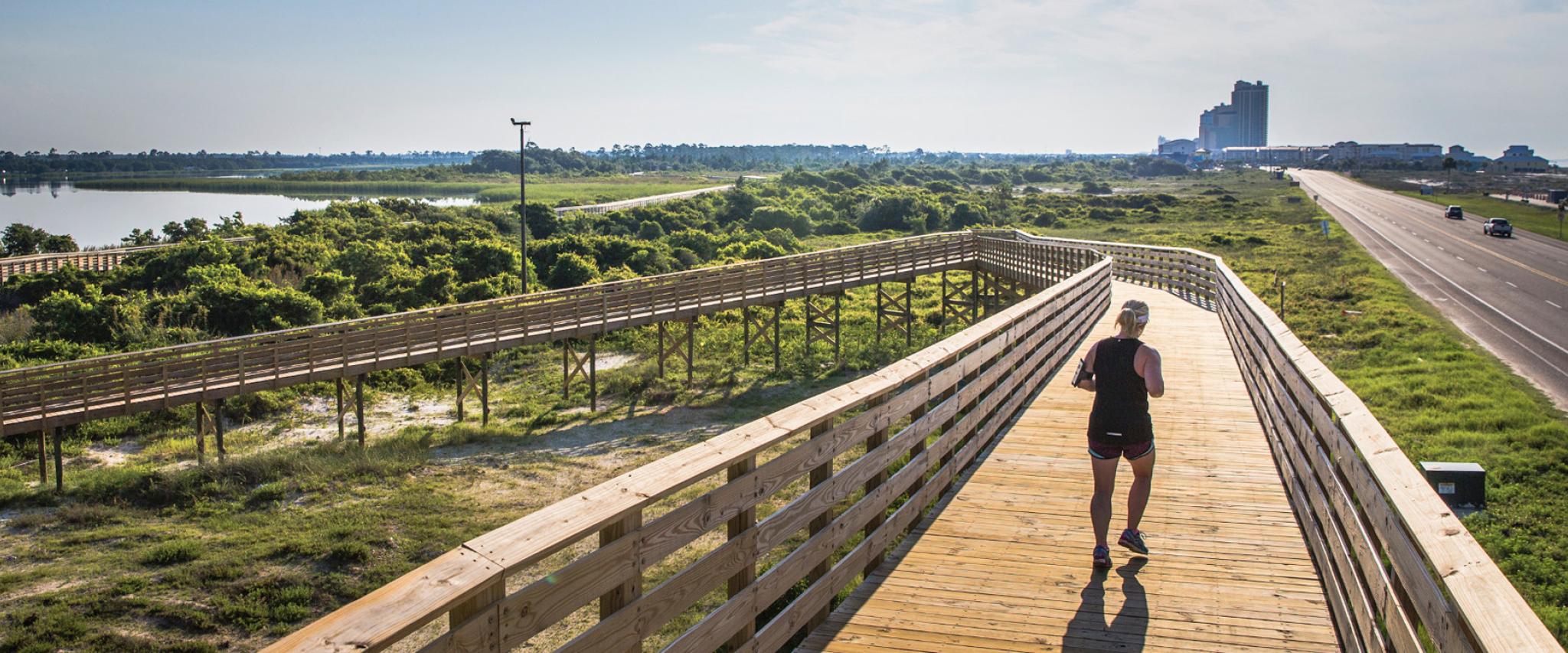 Best Trails for Race Training in Gulf Shores and Orange Beach
Just because you're on vacation doesn't mean you have to leave your fitness schedule behind.
July 22, 2019
If you're training for a race, you'll find miles of pavement to pound on the trails in Gulf Shores and Orange Beach. And if you prefer unpaved paths, you'll find those, too.
Perhaps one of the most popular trail routes is the Hugh S. Branyon Backcountry Trail that extends from Gulf Shores to Orange Beach with 15 trails and more than 27 miles of scenic, paved pathways. Trails range from the one-mile Twin Bridges trail to the 2.3-mile Coyote Crossing. You'll find distance markers on each individual trail in increments of a quarter mile, beginning with a 0.0-mile marker at the trailhead. The markers make it easy for you to plan your race training while on vacation. There are also restroom facilities and water fountains located on Rosemary Dunes, Gulf Oak Ridge, Coyote Crossing and Rattlesnake Ridge. The Backcountry Trail also features Powerline Connection, a loop using portions of Gulf Oak Ridge, Twin Bridges and Catman Road. The loop measures just over 5K and is ideal for training, with extra footage for warmup and cool down. Also, there are new boardwalk trails over Lake Shelby—a great place for a scenic run and perfect for viewing alligators, turtles and other wildlife.
The Fort Morgan Trail stretches from Highway 59 along the north side of Fort Morgan Road to the Peninsula Golf Course. The paved trail is six miles long and doesn't loop around, so be sure to consider the return trip before you head out for your run. There are no restroom or water facilities located along this trail.
If you prefer more rustic terrain, visit the Bon Secour National Wildlife Refuge. The refuge's trail system offers one- to four-mile hikes. These trails are unpaved and do not have restroom or water facilities. However, you'll be treated to scenic views of flora and fauna as well as wildlife (including more than 300 species of birds).
Of course, never overlook the obvious when training. The beach is a sure-fire winner every single time. With 32 miles of "training space," Alabama's shoreline offers amazing views and challenging runs through white-sand beaches.
Now that you know where to run, plan your next beach vacation around one of the annual races on the Alabama Gulf Coast. There's a race for every level of runner, including fun runs, 5 and 10Ks, triathlons and half marathons.
Visit our calendar for the latest events.