Pro Tip: Getting Kids Interested in Golf
July 2, 2019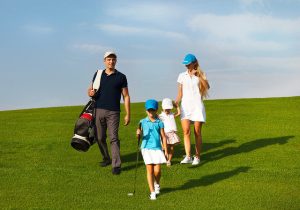 There are numerous benefits to children playing sports, such as the physical activity, developing social skills, and building self-esteem. With the game of golf, kids gain these advantages and many more - from learning etiquette and how to treat others to developing the drive for continual self-improvement.
So when should parents introduce the game of golf to their child? And what's needed to help them be successful? Rea Schuessler - a PGA pro with more than 30 years of experience teaching the game and lead instructor at the Gulf Shores Golf Academy - shares his expert advice on how to help kids learn and enjoy the game of golf.
A Word from Rae
One great aspect of golf is that it can be learned and played at practically any age. Parents, however, must keep in mind that a child being introduced to golf and seeking improvement should be open to learning and practicing, as golf is a motor skill that has to be practiced properly. Typically, kids between the ages of 4 and 8 have a shorter attention span, so play time is more about sampling the game and experiencing the fun. Kids ages 9 to 13 can begin to experiment with the game more and possibly begin entry level and intermediate competitive events. Most successful junior golfers - generally the age range of 14 to 18 - have decided that competitive golf is where their interest lies and they understand they must put in a good amount of time and effort to have a chance to achieve their goals.
While it may not seem necessary to focus on the kind of equipment to be used when introducing kids to golf, a set of properly fitted clubs is just as important for the beginner as for the most advanced junior golfer. Kids of any age benefit when using the right kind of equipment sized specifically for their stature. If you choose to rent instead of buy, you will need to check with the golf course to see what junior golf equipment options and fittings are available.
Learning the fundamentals and practicing is important to the game, but so is having fun. Being able to enjoy the sport means kids will want to spend time on the course, both playing and practicing. My philosophy is to let kids improve their game and develop their skills at their own pace, all in a relaxed atmosphere and having plenty of fun along the way. At the end of the day, it's all about getting children involved in the game and finding out if golf is a sport they will gravitate toward. Even if they decide they do not want to become a competitive junior golfer, they have discovered a game they can play for the rest of their lives!
Rea Schuessler, PGA
Gulf Shores Golf Academy
Director of Instruction
AimPoint Express Certified Instructor
US Kids Certified Instructor
251-978-1625
[email protected]