Serving Up Volleyball on the Beach
February 8, 2017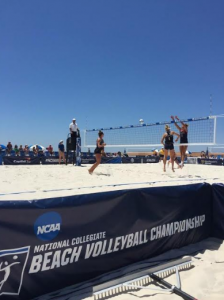 Fun in the sun will soon be served up in Gulf Shores. Mark your calendar now for May 5-7, 2017, so you'll be on the beach to see the NCAA National Collegiate Beach Volleyball champions crowned.
Collegiate teams from all over the country will face off when the 2017 NCAA National Collegiate Beach Volleyball Championship lands on the Alabama Gulf Coast. The top 8 teams will vie for the title on the Gulf Shores Public Beach. The format is double-elimination with an eight-team bracket.
The white sand behind The Hangout on East Beach Blvd. will be the setting for the collegiate courts and five practice courts in this thrilling three-day event. Bleachers and outside seating for fans will be
onsite, as well. The Gulf Shores & Orange Beach Sports Commission is proud to welcome the athletes, coaches and fans of the competing teams.
Catch spectacular surfside views of the sun's rays shimmering on the beach, along with the crashing of the waves intermingling with the roars from the crowd of volleyball enthusiasts. You'll enjoy spending the entire weekend watching all the bumps, sets and spikes from talented collegiate athletes. Slip your flip flops off and grab a sandy courtside seat as teams bring on the action.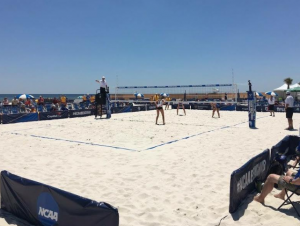 Our team is looking forward to greeting you when you're not courtside. Find a space to chill out in the shade when you stop by the visitor's tent. Lounge furniture, a charging station and live social media feeds of all the championship highlights and activities will be offered to fans of every team. Concessions and merchandise will also be sold by a variety of vendors throughout the weekend.
Will you be planning your beach getaway in May around this exhilarating event?