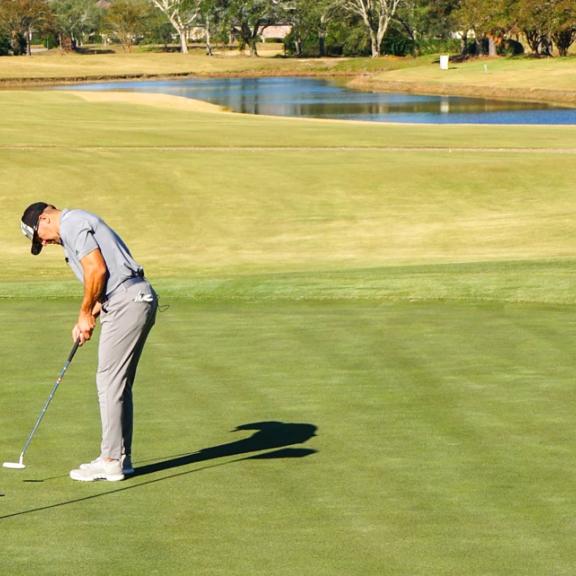 Five Reasons to Tee Off in Gulf Shores
Gulf Shores & Orange Beach
April 26, 2021
What better way to begin a vacation than by planning a golf vacation to Gulf Shores, Alabama. Every year I tell myself I will play more golf - and the Alabama Gulf Coast tops my list. You may be wondering what makes Gulf Shores so special and why it is any different from other golf destinations. Let's take a look at five things that set Gulf Shores golf apart. 
Improve Your Golfing Skills
Are you ready to start fine-tuning your swing? Or perhaps you are just starting out and want to hit the links with some top tips? Head over to the pro shops at any of the golf courses in Gulf Shores and ask about scheduling an individual lesson – or perhaps a group lesson if you are enjoying an ultimate mancation!
Prefer to remain self-taught? For as low as $15, you can start improving your technique and begin mastering the very best courses in Gulf Shores. Kiva Dunes and Peninsula Golf Club are home to great practice areas with a driving range, chipping green and perfect putting surface to help you succeed.
Family Golfing Getaway
Long gone are the days when golf was just for a select group of individuals. Now the whole family can enjoy the sport. Gulf Shores certainly embraces this and encourages everyone to pick up their clubs and hit the links.
Even if golf isn't really your thing, there is a new sport becoming increasingly popular: FootGolf . A combination of soccer and golf, this is a great way for everyone to get on the golf course.
Gulf Shores is the ultimate paradise for the golfers in your life. I hope you are now convinced that this is the best spot for your next golfing getaway. I know I am, and I cannot wait to start my golf season along the Gulf Coast this year!