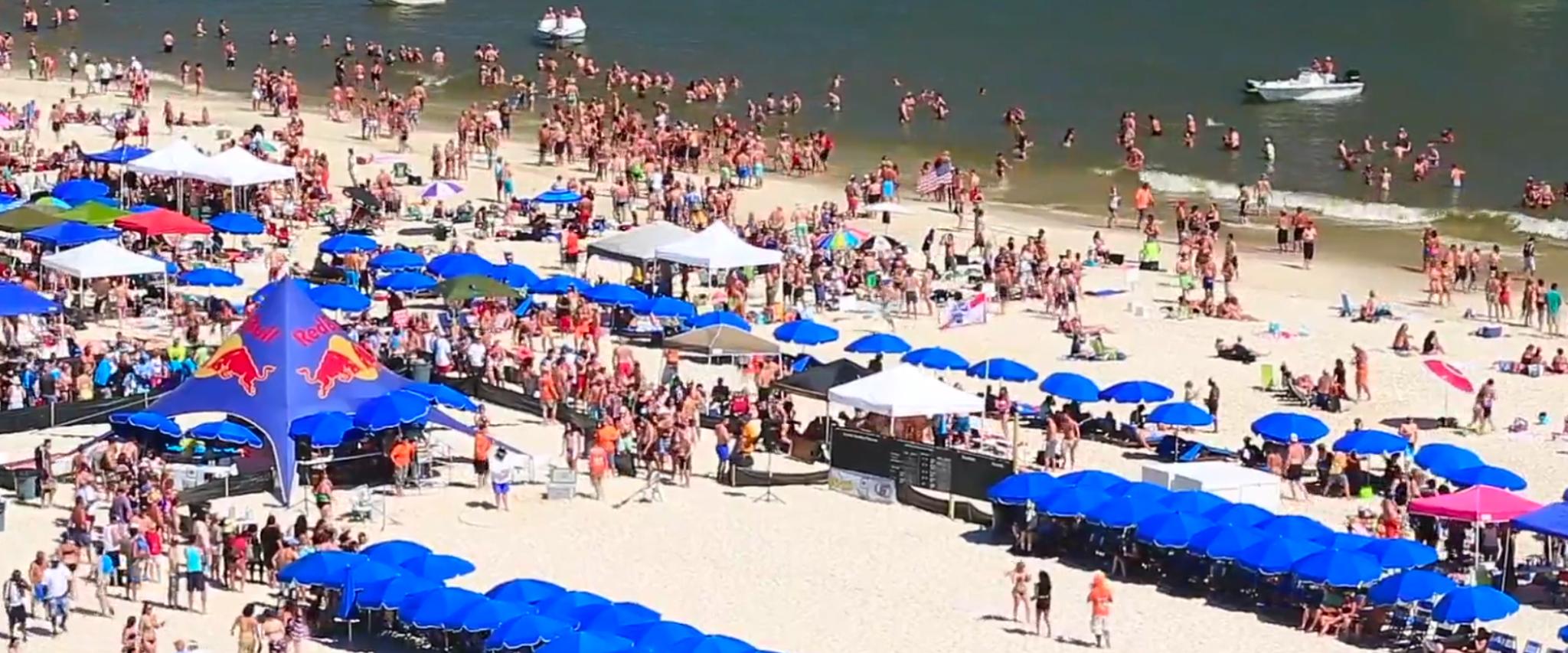 Three Ways We Celebrate the Mullet…Fish, Not Hairstyle
We'll be flinging fish again in April with a few thousand of our favorite friends at the annual Interstate Mullet Toss & Gulf Coast's Greatest Beach Party.
February 21, 2018
If you're confused by the name, let us help. Some people only know about the mullet hairstyle. You know - that long, shaggy, "business in the front, party in the back" look. This annual event is far more than the hairstyle you see in senior portraits from 1984. It's a fish! The mullet is a fish many on the Alabama Gulf Coast grew up eating. They are found in abundance in our back bays and waterways and, of course, at the annual Mullet Toss!
For three days, April 26-28, thousands of old and new friends will pour into the beaches at the legendary Flora-Bama roadhouse bar for their chance to fling a fish across the Alabama/Florida line. Flingers will toss their fish from a 10-foot circle in Florida into Alabama. Aside from all the fun, a percentage of every fish becomes a contribution to local youth charities, including prevention programs from the Community Drug & Alcohol Council, Inc. Each year, more than $40,000 is raised and passed on to these charities in both Florida and Alabama. How to participate: It's easy! Just show up, pay $15 for your fish and a souvenir T-shirt, and fling!
While the fish-flinging may seem like an athletic event, the triathlon is the official run of the Mullet Toss. The Mullet Man Triathlon is held on April 20, just a few days prior to the big event. A portion of the proceeds from the race will go to the Leukemia Lymphoma Society. How to participate: For information on registering, call 850-483-6267 or email [email protected] Registration is $85 for individuals and $150 for relay teams.
21st Annual Flora-Bama Mullet Swing Golf Tournament
Maybe running a triathlon isn't your speed. No worries - we celebrate the mullet three different ways, remember? Bring your favorite four-person team to win bragging rights at the Flora-Bama Mullet Swing Golf Tournament at the Perdido Bay Golf Club. An 11 a.m. shotgun start means you have plenty of time for bushwackers at the Flora-Bama Lounge the night before. At 5 p.m., the hospitality tent will open, with awards presented at 5:30 p.m. How to participate: Registration is $150 per person. On the day of the event, a per-player package of two mulligans and two tee busters can be purchased for $25. To register, call Jessica Langston at 850-483-6267 or email [email protected].