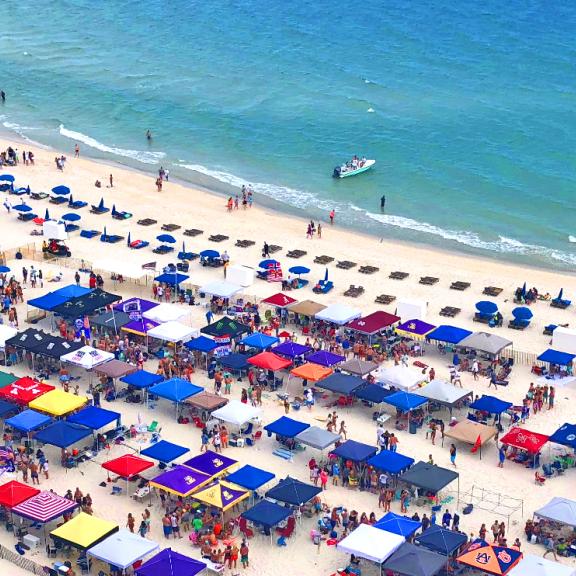 Three Ways We Celebrate the Mullet…Fish, Not Hairstyle
We'll be flinging fish again in April with a few thousand of our favorite friends at the annual Interstate Mullet Toss & Gulf Coast's Greatest Beach Party.
January 4, 2019
Locals to Alabama and Florida's Gulf Coast understand what the Legendary Interstate Mullet Toss is, but visitors sometimes need a quick education about the mullet which, by the way, is more than a bad haircut. This annual fish-throwing event is far more than the hairstyle seen in senior portraits from days gone by. You know the one, "business in the front, party in the back." The mullet is an indigenous fish many folks on the Alabama Gulf Coast grew up eating. They are found in abundance in back bays, waterways and, of course, at the annual Mullet Toss held at the iconic Flora-Bama!
Interstate Mullet Toss & Gulf Coast's Greatest Beach Party
For three days, April 26-28, thousands of old and new friends will pour into the beaches at the legendary Flora-Bama roadhouse bar for their chance to fling a fish across the Alabama/Florida line. Flingers will toss their fish from a 10-foot circle in Florida into Alabama. Aside from all the fun, a percentage of every fish becomes a contribution to local youth charities, including prevention programs from the Community Drug & Alcohol Council, Inc. Each year, more than $40,000 is raised and passed on to these charities in both Florida and Alabama.
How to participate in the Mullet Toss
It's easy! Just show up, pay $15 for your fish and a souvenir T-shirt, and fling! Email [email protected] for more information.
23rd Annual Mullet Man Triathlon
While the fish-flinging may seem like an athletic event, the triathlon is the official run of the Mullet Toss. The Mullet Man Triathlon will be held on April 13, a couple of weeks prior to the big event and a portion of the proceeds from the race will go to the Leukemia Lymphoma Society in memory of M. Lane Gilchrist, the late, popular Mayor of Gulf Breeze, Florida. Contestants should be prepared for swimming a ¼ mile in the Gulf of Mexico behind the Flora-Bama Lounge, biking on Alabama Highway 182 for a little more than eight miles and running the last portion for a little more than four miles. A post-race celebration will be immediately following with awards, food and beverages.
How to participate in the Mullet Man Triathlon
For information on registering, call 850-483-6267 or email [email protected].
22nd Annual Flora-Bama Mullet Swing Golf Tournament
Maybe running a triathlon isn't your speed. No worries - we celebrate the mullet three different ways, remember? Bring your favorite four-person team to win bragging rights at the Flora-Bama Mullet Swing Golf Classic at the Perdido Bay Golf Club on April 24th.
How to participate in the Mullet Swing Golf Classic
Registration is $150 per person. On the day of the event, a per-player package of two mulligans and two tee busters may also be purchased. To register, call Jessica at 850-483-6267 or email [email protected].
No matter if you're familiar with the Mullet Toss or a total newbie, find a place to stay on Alabama's Gulf Coast and make plans to attend some part of this annual event.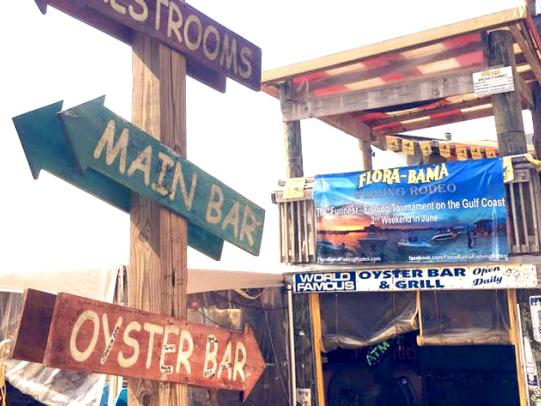 Did You Know?
Kenny Chesney wrote a song about Flora-Bama and performed it during a concert on the beach at the legendary roadhouse.
John Grisham references Flora-Bama in his best seller, The Pelican Brief.
Southern Living named Flora-Bama one of the "Best Bars in the South."
Flora-Bama was voted #1 Best Beach Bar 2017 in the USA and #14 in the World by MSN.