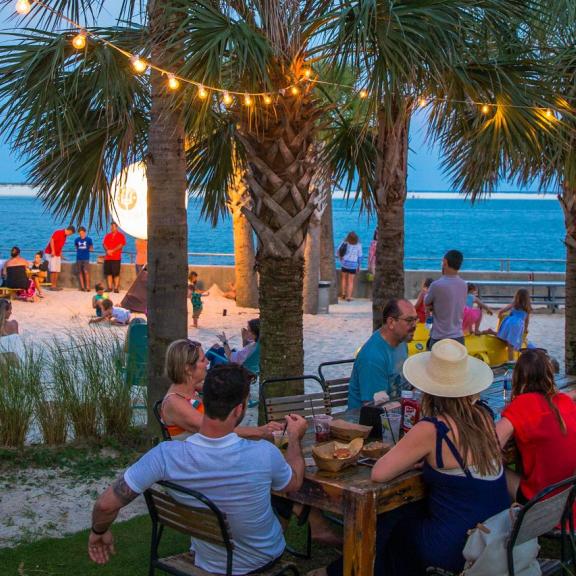 7 Gulf Coast Restaurants that are Acing the Waiting Game
We've all experienced the stomach growl when you approach a restaurant greeter and hear, "there's a wait." Waiting is hard, especially when you're hungry. Or have kids. Or a large party. But, many Gulf Shores and Orange Beach restaurants know how to play the waiting game, and you come out the winner.
August 4, 2020
From kid's areas to live music to quick cocktails, restaurants around the beach are creating great spaces for patrons to hang out while they wait for a table. The next time you venture out for a meal filled with delish beach eats, check out one of these seven beach restaurants where you'll be happy to wait.
When you're as popular as LuLu's, it's understandable that you have a bit of a wait. Luckily, they've prepared for just that by providing a variety of activities to keep your whole party entertained while they prepare your spot. A three-story ropes course, a beach arcade, and a large sand area with beach toys are all perfect for the kids to climb, play and run off that pre-meal energy. For the adults, canal views, convenient bars and daily live music will make your wait feel like a planned party. If you don't have time to play, their website offers online check-ins where you can announce your arrival and beat the wait. 
If you have kids in your party, even a short wait can feel like an all-day affair. The Original Oyster House in Gulf Shores combats this problem with an outdoor playground that will keep the kiddos busy for you! You can even feed the fish from the boardwalk. There's also an onsite gift shop where you can buy souvenirs, merchandise and beach essentials you may have forgotten. 
If you're heading to The Hangout during the summer, chances are, you'll encounter a waiting list. But most visitors are up for the wait - and for good reason! It combines good food, custom cocktails, sandy play area and a whole lotta' fun for an unforgettable experience that starts as soon as you're on the list. You can't miss your chance to hang in the restaurant's outdoor courtyard - live music, daily foam parties, a giant sandpit, ping-pong tables and daily events will have you bumping yourself down the waitlist so you can enjoy more fun. Don't worry, you can still play after you eat. 
GTs stands for "good times," and they mean it! This Orange Beach restaurant overlooks Wolf Bay has plenty to see and do while you wait for a table. If you walk through the restaurant, you'll pass by a pool full of stingray and fish. The back deck offers stunning bay views, live music and quick bar service to help pass the time. Kids will love the outdoor play area that features a wooden pirate ship and a large sandpit. You can also catch fun family activities like caricature drawing or face painting at various times throughout the year. 
If you have to wait for a table, why not do it on the beach? The Gulf is a unique beachfront restaurant made entirely of recycled shipping containers. There's plenty to look at and tons of Insta-worthy photo ops. You'll find an open communal space where you can grab a spot at the bar, make new friends, and enjoy live music with your toes in the sand. There's also a gift shop where you can browse a cool beachy mix of clothing, souvenirs, home decor and more. At night, The Gulf lights up their signature fire pit. Take a seat around the fire while you wait for your food to arrive. 
Tacky Jacks in Gulf Shores changes the waiting game with Jack's Bar, an open-air bar where you can sip a cocktail while you watch the kids play in the outdoor kid's area. There's also daily live music and views of the scenic Intracoastal Waterway to keep you occupied. Or, take a stroll through Tacky Jacks Gift Shop, where you can find restaurant merch and unique gifts made by local artists. 
Picnic Beach is a unique restaurant in Gulf Shores that serves fresh, clean meals in picnic fashion. Gather around a picnic table or find a spot on the turf and challenge your group to a friendly round of games like Gulf Shoresopoly or Trivial Pursuit. That's right! Picnic Beach has a great selection of board games just waiting for you to challenge your friends and family.