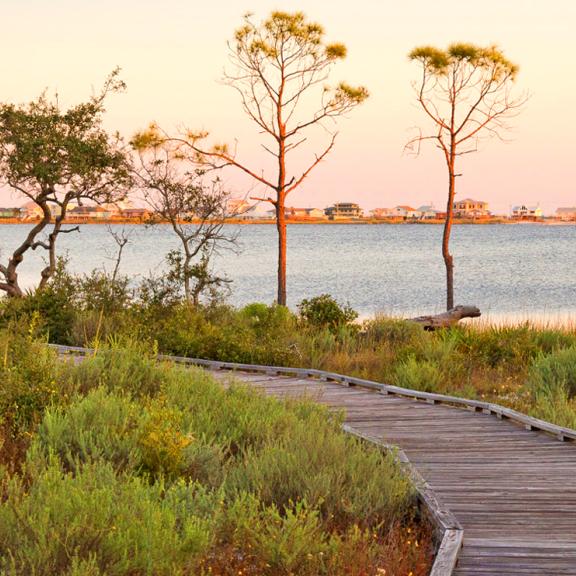 Best Places to Run in the Gulf Shores Area
Whether you are a local looking for a place to take a leisurely jog or a visitor determined to stick with their health goals while on vacation, the trails throughout the Alabama Gulf Coast will provide the path.
July 30, 2020
Not only are the extensive trails of the Gulf Shores area perfect for lengthy jogs, but they also allow for some captivating views along the way.
1. The Hugh S. Branyon Backcountry Trail: A 2017 expansion added at least 10 miles of paved trails to the trail system. Now, 25 miles of trails meander through more than 6,000 acres of Gulf State Park land, connecting the cities of Gulf Shores and Orange Beach. Experience one of the most scenic and interesting runs in the area with more than 15 trails and six different ecosystems.
2. Graham Creek Nature Preserve: Choose from a 5-mile hiking trail, 7.5-mile bicycling trail, or 3-mile cross country trail in nearby Foley, and soak up the energy of hundreds of plant and wildlife species.
3. Fort Morgan Road Trail: The 5.6 miles of paved trail skirt numerous tree-lined neighborhoods along Fort Morgan Road. Spanning the distance from Peninsula Boulevard to Highway 59, you can lengthen the fun by crossing the highway and picking up the path of the Backcountry Trail.
4. Highway 182: Go as long as your runner's heart desires on this seemingly endless stretch of highway throughout Orange Beach and Gulf Shores (and into Florida). The experience includes views of the white-sand beaches and gorgeous waterfront homes, and the smell of the salty Gulf air.
5. Bon Secour National Wildlife Refuge: These trails are more suited for hiking, but for the off-roader, you can still get in a great workout. The Bon Secour National Wildlife Refuge features four trails of one to four miles, each providing a different habitat for the area's wildlife. You'll want to bring along a bottle of water and insect repellant for your time on these rustic trails.
6. The Beach: When in doubt, if you are in the mood for a more challenging run, The Alabama Gulf is home to miles upon miles of beautiful beaches. This run will allow you to take in a consistently breathtaking view of the water, while giving your legs an added toning opportunity thanks to the sugar-soft sand.
Run for fun or enjoy a change of scenery while fulfilling your exercise goals this week. Either way, these trails will provide you with an experience that will keep you "running" back for more!