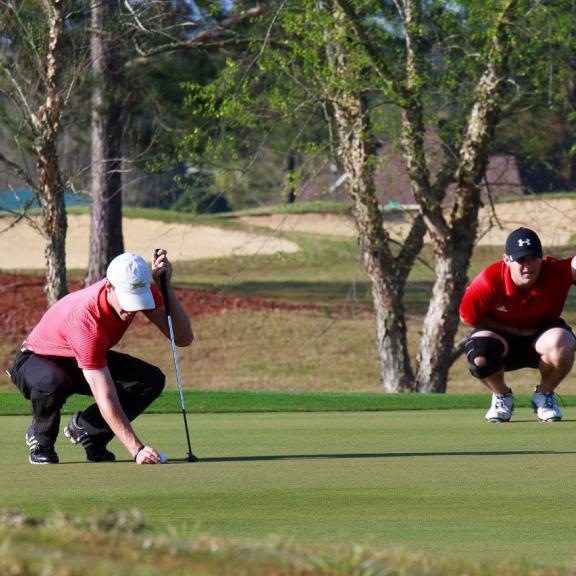 Glenlakes Golf Club: Golf or FootGolf? Why Not Enjoy Both!
Have you ever contemplated playing golf and soccer (or football as it's known in many parts of the world) at the same time?
July 27, 2020
Did you know that FootGolf is a sport and one that the Alabama Gulf Coast is proud to be a premier destination for? What better way to sample this quirky yet fun-filled sport while also testing your golfing skills at a 27-hole complex. When you head to Glenlakes Golf Club in Foley, you can experience all of this during the same visit.
Glenlakes: Premier FootGolf Destination in Alabama
Let's start with the unique characteristic that helps Glenlakes stand out from the other courses in the region – FootGolf! Located on the nine-hole resort-style "Lakes" course, this 18-hole FootGolf course is designed for all the family to get out and enjoy a scenic walk while trying to kick a soccer ball into the 21-inch diameter cup. It may sound easy, but once you start you quickly realize it's not as simple as it looks.
The principle of FootGolf is essentially the same as golf and understanding the conditions along with the layout of the course is critical to achieving a good score. But the beauty of FootGolf is that for most first-time visitors, the score really doesn't matter, and you can just enjoy a whole bunch of fun with all the family. 
Unlike the 18-hole golf course where you may feel a little overwhelmed if you have never picked up a golf club, the FootGolf course is for every standard and all ages. It's truly a family-oriented activity and one you won't regret trying out.
If you are looking for an action-packed form of exercise with a little bit of competition, why not head to Glenlakes with friends or family to enjoy a course accredited by the American FootGolf League. For those of you that are concerned about golfers playing the course at the same time, don't worry as everyone is welcome and it's easy to adjust with both sports taking place.
Enjoy 18 Holes of Traditional Golf on the Gulf Coast
While Glenlakes is certainly a unique destination because of the FootGolf component, the golfing traditionalists will still love this resort as there are 27 gorgeous holes waiting for all standards to enjoy. Whether you are tempted to sample the Lakes course after playing FootGolf there, or perhaps you prefer to head over to the 18-hole, links-style, Vista-Dunes course, there is something for everyone to enjoy at Glenlakes.
Why dream about playing golf in Scotland when you can hit the Scottish style links at Glenlakes and test your skills on a collection of unique layouts? Designed by architects Bruce Devlin and Robert Von Hagge, Glenlakes is home to a championship-style design. Perfectly manicured and always maintained in excellent condition, Glenlakes epitomizes the standard, of course, you can expect to find along the Alabama Gulf Coast.
The signature hole is undoubtedly the par 5 7th on the Dunes course, which is a challenging, risk-reward layout. Hit the perfect drive and be left with a decision on whether to take on the water that lines the right side of the fairway and surrounds the front of the green or play safe and layup short of the water. 
Regardless of whether you survive the challenge of this hole, there are plenty more opportunities throughout the course to improve your score but remember to always be cautious as there are plenty of hazards waiting to collect your errant shots. 
Refuel at the Bunker Café
Whether you are looking for a quick bite to eat at the turn before hitting the back nine or simply ready to enjoy lunch after a morning round, there are plenty of delicious menu options available at the Bunker Café located inside the Glenlakes Clubhouse. Head into the pro shop for a little golf retail therapy before sampling everything from fresh sandwiches to chicken quesadillas, among many other choices.
With plenty of outdoor seating on the veranda, the Bunker Café is the perfect spot to reflect on your round or perhaps mentally prepare for an afternoon of exercise on the FootGolf course. After indulging in the variety of cuisine available, you may be ready to burn a few calories and showcase your soccer/golf skills on the course.
5 Tips for Visiting Glenlakes
A visit to Alabama's beaches wouldn't be the same without spending some time in nearby Foley and what better way to start your adventure than by heading to Glenlakes for a day on the golf course.
Take your own soccer ball if you feel more comfortable kicking your own. It may sound trivial, but golfers will understand as it's like using your own clubs versus renting others. Plus, you can save $1 and not have to rent one.
If you want to experience both golf and FootGolf on the same visit, consider playing nine at the Dunes for the ultimate golf encounter, grab lunch at Bunker Café, and then head out for an afternoon on the Lakes course with FootGolf (either nine or 18 is your choice).
While soccer players tend to pass the ball with the side of their foot for accuracy, a pro tip for FootGolf when trying to "putt" is to use a deft "toe-poke" approach to get the ball in the hole.
Consider playing the quieter Lakes course both for golf and FootGolf. While the Dunes and Vista courses are the ultimate golfing experience at Glenlakes, the Lakes tends to be quieter and still offers an enjoyable layout.
Don't forget to allocate some time to visit the family-friendly entertainment at The Park at OWA and also experience a retail therapy at the Tanger Outlet Center in Foley.