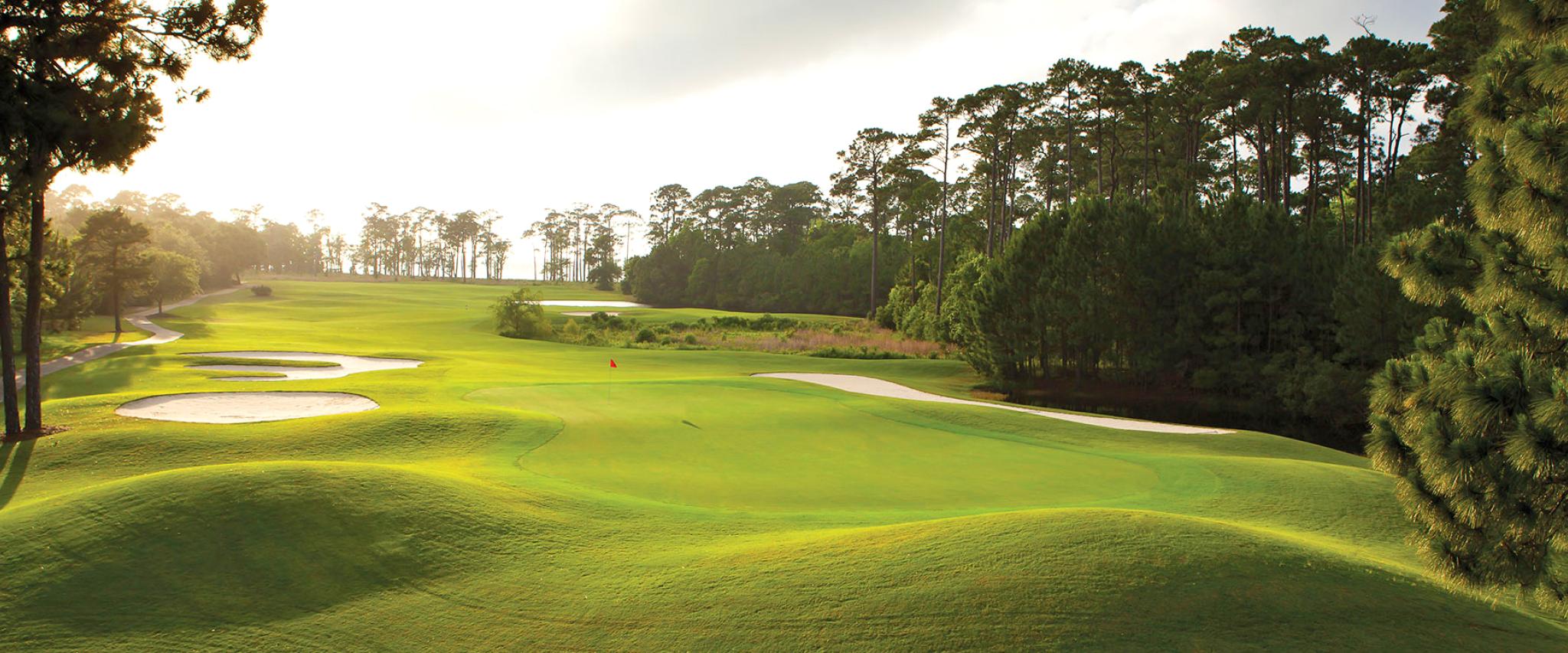 Get to Know Gulf Shores Golf Courses
Gulf Shores golf courses are plentiful, with stunning views, challenging holes and the availability of practice facilities as well as lessons from PGA pros.
August 6, 2020
Newbie golfers will love the courses as much as seasoned golfers and everyone will have favorite memories to take home. Both will agree on one thing, however: They'll be back again and again.
Peninsula Golf and Racquet Club is a different kind of course – actually three nine-hole courses, each unique and presenting different challenges. Located on Mobile Bay and designed by Earl Stone, this Gulf Shores venue was rated 4.5 stars by Golf Digest. The courses – Marsh, Lakes and Cypress – make for a fun outing and sport a remodeled clubhouse, restaurant and bar, fitness center, tennis courts, and both indoor and outdoor pools.
No golf trip to Gulf Shores is complete without playing award-winning Kiva Dunes Golf Course with its stunning beachside design. Located on the Fort Morgan peninsula of Gulf Shores, Kiva Dunes is the number-one ranked course in the state. A 2015 renovation made the course (developed by Jim Edgemon and U.S. Open champion Jerry Pate) more playable for average golfers – but fear not, there's still plenty of challenge in Kiva's 18 holes. Golfers have a dedicated, full-swing practice area at Kiva Dunes as well as opportunities for lessons with the resident PGA instructor, Rea Schuessler. Additionally, there is a clubhouse, fitness center, and the ever-popular Kiva Beach Club.
Gulf Shores Golf Club was the first golf course in the Gulf Shores area. Built in 1967 west of Highway 59, the father/son team of Jay and Carter Morrish originally designed the golf club. A 2005 renovation added another 300 yards and some bunkers, and fancied up the fairways. Golfers agree the historic plantation-style clubhouse with a restaurant and pro shop is a timeless classic. Gulf Shores Golf Club, an award-winning course, is well known for stately oaks and lots of wildlife, including alligators.
Craft Farms Golf Resort – Cotton Creek is a 7,000-yard, par-72 golf course with tree-lined fairways, doglegs and smaller greens. Arnold Palmer's first Gulf Coast course, Cotton Creek is very traditional with challenges for every range of golfer.
Craft Farms Golf Resort – Cypress Bend is also an Arnold Palmer-designed coastal course. Award-winning Cypress Bend is loaded with staggered tee boxes, big bunkers, upscale greens and all-around lush landscaping. Fairways are wide, offering refuge from the cord-grass-accented lake that figures into almost every hole. A practice area is available, as are on-site accommodations (Courtyard by Marriott and Cypress Point condos).
The sub-tropical climate of Gulf Shores makes it the perfect place to play golf year-round, with spring and fall being unparalleled opportunities for cooler temperatures and pleasant, breezy days on Alabama's coast. Bring your sticks and enjoy Gulf Shores golf! For more golf course selections, visit our website.