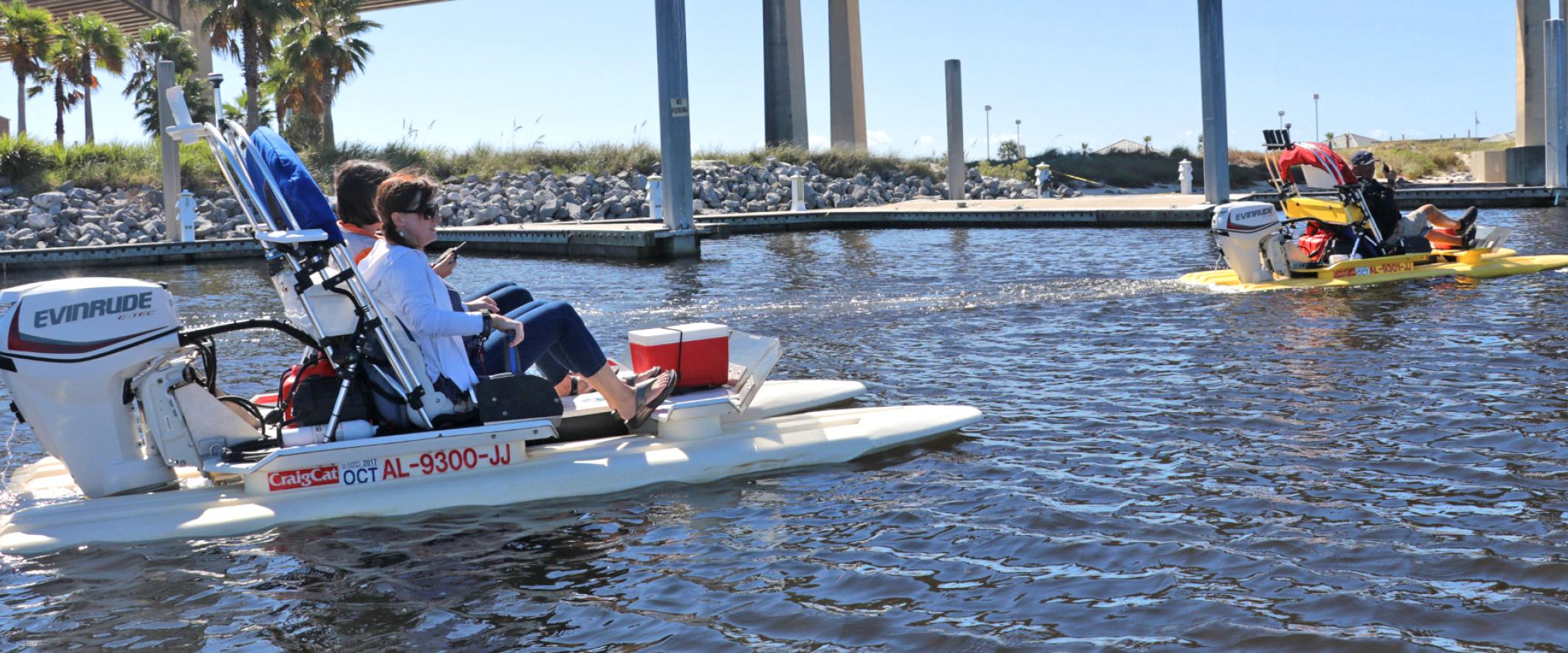 My Unique Experience on an Orange Beach Cat Boat
When I think of Orange Beach, Alabama, I immediately think of two things: sand and sun.
January 25, 2019
One of my favorite Alabama beaches, Orange Beach has become one of the top destinations my family wants to visit year in and year out. Occasionally, I get to sneak away with girlfriends, and I've also been privileged enough to visit a time or two for work.
Just What is a Cat Boat?
Most recently, my visit during the shoulder season (the time of year between summer and winter) brought me a unique experience with Orange Beach Cat Boat Tours. What is a "Cat Boat" exactly? Well, it's somewhere between a paddle boat and a larger, motorized boat. Each boat seats two passengers, but only one can drive. On their website, the tour company calls it a "compact powerboat," and I believe that is an accurate description.
A fellow travel writer experiencing the tour with me graciously agreed to drive us. I was a bit nervous handling a motorized vehicle out on the water, but I felt safe with her expert driving skills. If you're a bit nervous about driving a boat, don't worry! No boating experience is necessary, and they give you a driving lesson before you set sail.
Learning the Ropes
After a quick, 15-minute lesson on the basics of driving, we were off on our grand adventure around the back bays of Orange Beach. Following our knowledgeable tour guide, we zoomed around and listened via walkie talkie as he regaled us with a plethora of interesting stories about the waterways of Orange Beach. He pointed out famous celebrities and their homes, shared where we could get the best seafood, and told us with how the weather has shaped the look and size of the back bays over the years.
My cat boat tour was in the cooler month of October, so I brought my jacket along to ward off the chill coming off the water. By the end of the two-hour tour, however, I had wrapped it around my waist because the beaming sunshine and wind combination had actually made for a pleasant weather experience.
I would never have thought I would have so much fun driving around the back bays on a compact powerboat. It was so much fun to experience the tour with another novice because our expectations were wide open as to what we would be doing for the full two hours.
Orange Beach visitors looking for a unique way to have fun with family and friends should definitely consider a cat boat tour. It offers a whole new way to experience the Alabama Gulf Coast. Orange Beach Cat Boat Tours offers two-hour guided tours, as well as rentals. The tours leave Caribe Marina in Orange Beach and offer a great starting point to explore Old River, Robinson and Bird Islands and the back bays of Orange Beach.