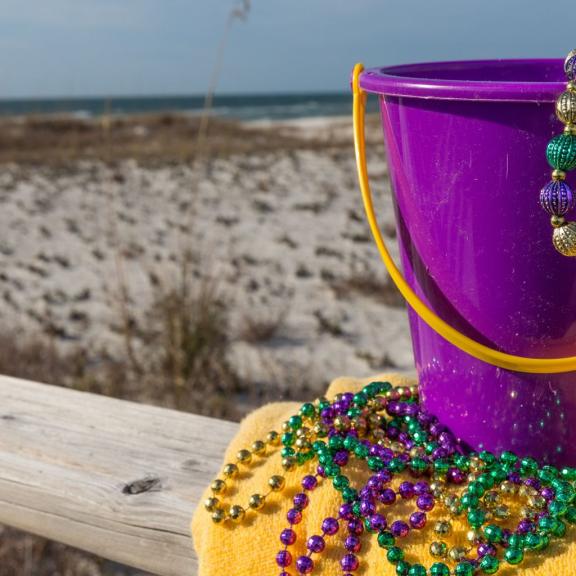 Mardi Gras
In Gulf Shores and Orange Beach
Are you looking for a family-friendly Mardi Gras parade to attend in Gulf Shores? Read Tammilee Tillison's tips on how to celebrate Mardi Gras as a family!
November 12, 2021
I can't think of a better place to celebrate a true New Orleans Mardi Gras than Gulf Shores and Orange Beach! The weather is fantastic, the food delicious and it is almost all family-friendly!
 
The parades are fun, family events. Floats, costumes, and bands and beads and all the Mardi Gras fun…but G-rated! You don't have to worry about covering the kids' eyes because something is happening you don't want them to see. 
 
We did our Mardi Gras celebrations in Gulf Shores and Orange Beach a couple of years ago and completely fell in love with it! I will admit to contemplating shipping home multiple Rouse's Market King Cakes and freezing them so we could have them year-round. We also stocked up on King Cake flavored coffee and honestly everything King Cake flavored we could find. 
 
Here are some of the epic highlights you do not want to miss while enjoying Mardi Gras on Alabama's beaches.
Gulf Shores and Orange Beach Mardi Gras Parades For the Whole Family