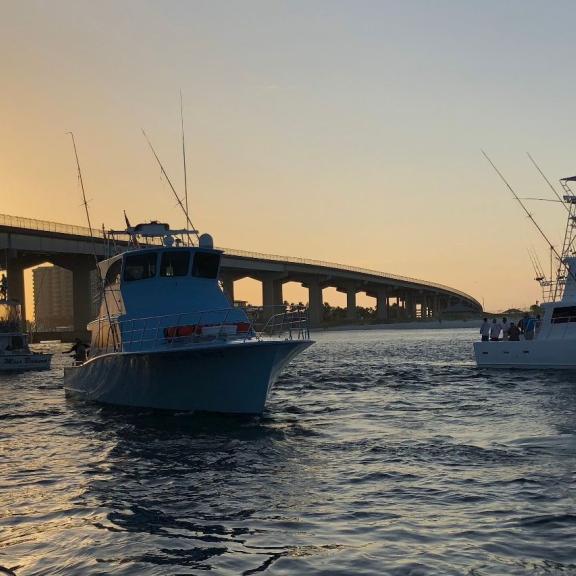 Hook Underutilized Species for a Day of Fishing Fun
Many times when you head out into Alabama's fertile estuaries and Gulf waters on a fishing trip, your initial plan to catch the more popular species like speckled trout and redfish may go awry.
July 6, 2020
That's when you adjust to take advantage of what you can discover, which could be anything from ladyfish to bull croakers to gafftopsail catfish to jack crevalle.
The ladyfish is sometimes called the poor man's tarpon because it provides the acrobatics or a tarpon in a miniature size. Ladyfish will hit live shrimp or a jighead and are mostly found along the beautiful beaches on the Alabama coast.
While you're on the water, make sure you're on the lookout for any kind of animal or fish activity, like birds diving for bait or shrimp jumping out the water.
When you spot an area with the water worked into a froth on top, it's a sure sign a school of fish is ambushing baitfish or shrimp, so be ready to take advantage of what Alabama's saltwater offers.
Sometimes the schooling fish will be Spanish mackerel, which is a popular fish species along the Alabama coast. However, just as common, it could be a school of the hard-charging jack crevalle, which is one of the underutilized species when it comes to  consuming after catching
Experienced anglers on the Alabama coast know to always have at least one rod in the boat that will handle one of the larger species that roam the coastal waters. A heavier spinning rod and reel loaded with at least a 20-pound test line will usually do the trick.
With jacks, it's important to make sure you drag system is working properly. Once a jack feels the hook, it takes off like a rocket. All you can do is hang on and wait until the drag starts to work on the fish. Regain line when the fish allows. If the fish is so big that you have a hard time stopping it, best pull the anchor and let the fish drag the boat around until it tires.
While jack crevalle is on the menu in places like the Caribbean and South America, it's not one of the popular food species along the Gulf Coast.
However, that is a mistake. As I discovered from Chef Chris Sherrill and Chef Haikel Harris, jack crevalle can be delicious. Those chefs found out that if you treated the flesh of the jack crevalle like beef that it is delicious. They cut the jack into chunks and marinated it like beef. Then they grilled it as shish kebobs. With a buffet of several different fish species available, the jack crevalle was the first to disappear. It was delicious.
Gafftopsail catfish, aka gafftops, also are considered trash fish by many people but don't tell that to Maurice Ryan, one of my buddies who has lived on the Alabama coast all his life. He treats every gafftop he catches just like any other species. He filets the fish and fries it in 350-degree oil. Tastes just like freshwater catfish.
Most of the time, catching a gafftop is incidental while fishing for specks and red with some type of live bait. You'll know pretty quickly if you've hooked a gafftop from the way it fights and from the slime on the line near the hook.
If you're hungry for fish, don't hesitate to throw one or two of these underutilized species into the ice chest. Take it home and give it a try. You'll be surprised.