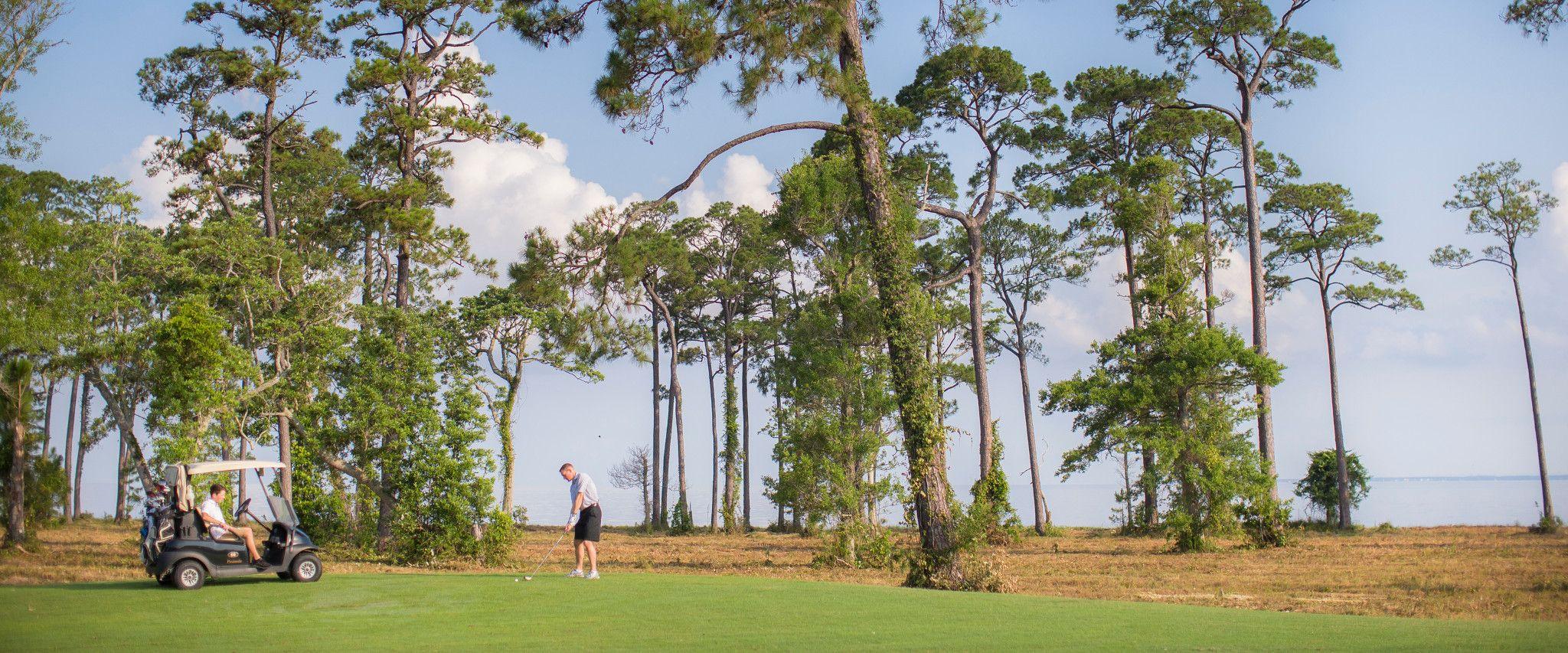 How to Plan The Perfect Winter Golf Vacation
For some golfers, the thought of winter games brings to mind freezing fingers and hard-packed soil. But here on the Alabama Gulf Coast, winter golf is an entirely new game.
November 22, 2019
Our award-winning courses in Gulf Shores & Orange Beach become a golfing oasis, offering great weather, few crowds and special rates. Winter tee-offs are a great way to keep your swing in shape, and taking a drive on a Gulf Shores golf course is hassle-free and easy. In other words, it's the perfect time to plan your golf vacation!
Great Golf Weather
As an outdoor sport, golf is heavily affected by the weather. Rain, clouds or overwhelming heat can turn a fun game into anything but. Luckily, the winter on Alabama's beaches is perfect for golfing! The temperatures are mild and the skies are a stunning clear-blue. Enjoy a mid-day round at your favorite local course as you bask in the cool, fresh air and scenery.
Packing should be a breeze! Forget the gloves and parkas - a comfortable pair of golf pants and a light jacket are plenty to stay warm on the greens. You can also have your clubs shipped or rent some professional gear from the golf course to save even more room in your luggage.
Get Your Favorite Tee Time
Golf is a popular pastime on Alabama's beaches, especially during the spring and summer seasons. During the winter, it's easy to swing your favorite tee time at any of the championship courses. That's because the crowds are low, leading to open and flexible schedules. Whether you're in for a morning drive or a late afternoon game, you're sure to find an open hole at a variety of local courses. Visit your course's website or call ahead to be sure there isn't a tournament or private event that might bar you from your desired playing time.
Play At Your Own Pace
Speaking of uncrowded courses, another great perk of winter golf is playing at any pace you like - without inconveniencing a long line of people waiting behind you. Small crowds mean more time to play, so it's the perfect time to train a newcomer or just enjoy a slow-paced round. If you want to spend a long afternoon playing the game, winter is the ideal time to do it.
Winter Golf Specials
While you're planning, keep an eye out for winter golf specials. Many of the Gulf Shores golf courses offer special rates during the off-season. Craft Farms Golf Resort has two 18-hole courses designed by the legendary Arnold Palmer, and they offer $10 off 18-hole games during the winter. Peninsula Golf and Racquet Club also offers winter specials for its award-winning 27-hole course, which is perfect for players of all skill levels and was awarded 4.5 stars by Golf Digest. 
Winter Accommodations
Of course, a great golf vacation needs a great place to stay. Some courses are full-scale golf resorts, but there are also plenty of nearby accommodations, as well. The best part? Just like your golf game, you'll find discounted rates on off-season vacation rentals. That means you won't just bring in green on your golf cleats, but you'll have more green in your pocket for your favorite restaurants, shopping or other experiences. 
Are you ready to spend your winter vacation teeing off in one of the most beautiful golf destinations in the country? Browse our special offers to find winter rates on your favorite courses and vacation rentals and find a place to stay!